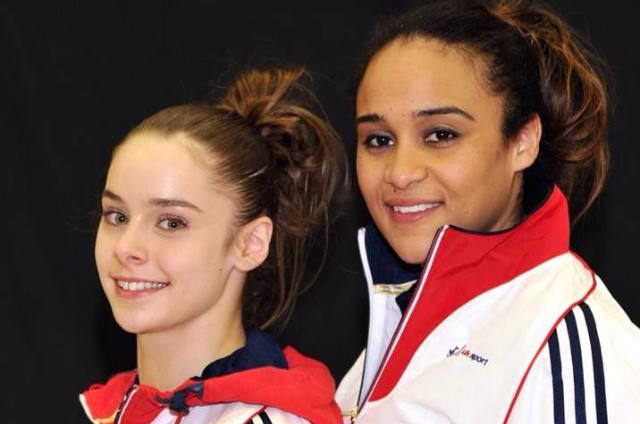 Princess Catherine Lyons of Europa and her coach, former international elite gymnast, Rochelle Douglas, are here! We noticed these two in the very popular YouTube series called Team Sparkle. Princess Catherine is known for her exquisite form, her elegance, her uncommon maturity, making audiences cry with her expressive melancholy and angst-filled modern dance choreography. She's on a major winning streak, in 2012 she won the all-around at the  British Espoir Championships; in 2013 she swept it, winning all-around and all four event finals; and this year she's won gold on floor in every meet she entered, including the English Championships and British Championships; and finally she capped off the year by becoming the 2014 Junior European Floor Exercise Champion where she helped the British team take silver. At Euros she also had the highest Execution score of any junior. And you know how we LOVE that.
We have her coach, Rochelle Douglas, to thank for this. Rochelle was an International gymnast from 1994 to 2000 and competed at European and World Championships along with Lisa Mason and Holly Murdoch, only just missing out on the 2000 Olympics.  She's passionate about building truly artistisc gymnasts and getting them to the highest level. We discuss:
Achieving such a high level of artistry and execution at such a young age.
The story behind Princess Catherine's floor routine and choreography.
Why having puppy feet can be an adjustment, even for an artistic master.
A typical day in the life of Miss Lyons and her coach who has two jobs!
Why Catherine likes danger and how she mastered her switch split mount.
Creating confidence and commitment to performance in young gymnasts.
Keeping judges attention and drawing them into a routine.
How Rochelle handled the disappointment of not making the 2000 Olympic team.
Shenanigans that Rochelle and teammate, Lisa Mason, got into in their elite days.
Steps the British program has taken to improve their results since Rochelle was competing.
What happens at the Lilleshall National Training Centre training camps and what makes Amanda Reddin a special kind of leader.
What Princess Catherine and her coach think of her nickname.


[slideshow gallery_id="5″ resheight="450″ resheighttype="px"]

Catherine Lyons on Twitter
Rochelle Douglas on Twitter
Europa Gymnastics Centre website.



Watch it on YouTube here.


The GymCastic Podcast by gymcastic.com is licensed under a Creative Commons Attribution-NonCommercial-NoDerivs 3.0 Unported License.
Based on a work at gymcastic.com.