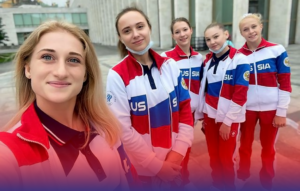 LISTEN

WATCH
Club Gym Nerd members can watch the podcast being recorded and see video clips of the gymnastics while we discuss.

Please login to your Club Gym Nerd account to listen and/or watch this episode. Not a member? Join here.
OLYMPIC PREVIEW PART 1: Teams
Today, we preview the 12 teams qualified to the women's competition at the Olympics: who's on them, expectations, storylines, and medal hopes.

United States: How much of a fall buffer does the US have over everyone else? What records is Simone going to break, and when? And what 2-per-country problems should we start worrying about?
Russia: How has this Russian generation closed the gap on the United States? Will Russia beat China for silver? Will a Russian win an all-around medal?
China: How China is changing the tired narrative, both in age and event strength. You want 2-per-country drama? Check out the Chinese team trying to make the beam final.
Japan: How will the team handle the host-country pressure? And how do we bring #JusticeforMai full circle?
Italy: It's Vanessa Ferrari's 4th Olympics. Will a year of injuries compromise Italy's chance of another bronze medal?

All your US questions post-trials in a rapid-fire Q&A. Well, medium-fire. OK, slow-fire. Plus what happened to Charlotte Drury and many other trampolinists. We discuss why the women's alternates changed since Olympic Trials.

France: It's Melanie time! Plus, can Boyer do it again? How will the team fare without Lorette Charpy?
Canada: Never count out Ellie Black. The proper response to Brooklyn Moors' floor. How will an event-final focused selection strategy affect the team score?
Netherlands: Eythora's voice-floor, Sanne's beam, and everything else about the most artistic team at the Olympics.
Belgium: Will Nina win bars gold? Plus an intense breakdown of her very divisive floor routine.
Germany: The sentimental underdogs of the Olympics bringing the age and unitard revolution. Also, why does Seitz not have more medals, and what are we doing about that?
Spain: How do we get Roxana Popa back a floor final?
JOIN CLUB GYM NERD

RELATED EPISODES
MORE WAYS TO LISTEN