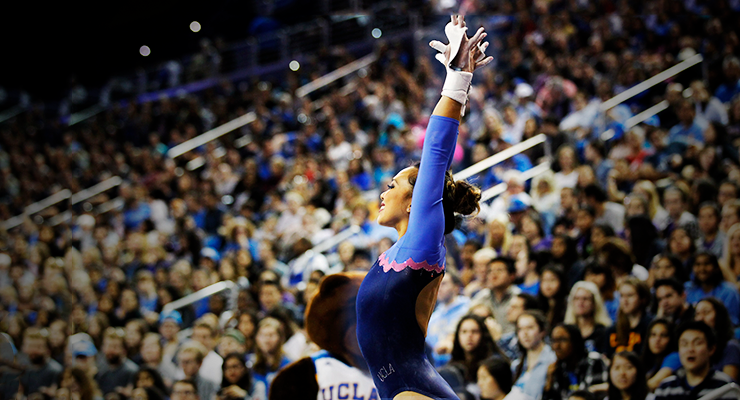 LISTEN HERE
MEET NEWS
In the news, Uncle Tim, Spencer, and Jessica chat about:
Hall of 10's 

Gymnastics theme meets we want to see:

GymKata, Sean Melton-themed, Screw Elite Gymnastics theme, Judges Appreciation theme, Save the Tatas Education with live demonstrations.

Funniest (only because she is ok) 

vault crash

 we've ever seen

Morgan Lane ranked 4th now on BB 9.950 
What constitutes over celebrating on the mat in NCAA?
Why Kyla Ross changed her floor routine

Crack or Correct: The Most Controversial Scores of the Week

The end of Chalkography? New rule .02 deduction for "excessive chalk" in NCAA
 Men's NCAA Gymnastics update
New men's national team qualifying rules at Winter Cup that make Jessica rage
GYMTERNET NEWS
Our weekly roundup of the latest news stories from around the gymternet include:
Olga Korbut auctioning off all of her medals
Ysenia Ferrera has returned to the Cuban National Team! 
Gymnast Anthony Wise gets back on the horse after three-year layoff + battle with anorexia 
Wendy Hillard says she was left off World Team for being black
Should USAG drop Under Armour for Nike?
Brazilian Federation in hot water after financial irregularities
Why do so many Russian team members have kidney stones?
Chuso punch front mount to immediate punch front on beam
Ponor is doing 

Onodi + Aerial walkover + Double turn #BDSMwithCata

USA Gymnastics MSU Sexual Misconduct Investigation:

Interview with one of the accusers from the 90's, "So many different people shoved it under the rug."
12 unanswered questions about the Larry Nassar sex-abuse scandal 
Trying to keep track of all the accusations? M Live has helpful interactive map
YOUR FEEDBACK
A terrified coach asks what to do when told to ignore written safety protocols on her first day.
A report on the new Women's Technical Committee President, Donatella Sacchi had to say at Nick Ruddick's Gymnastics Conference
How do adult gymnasts support their chests to compete in backless leotards?

See tutorial on taping boobs for backless leotards here

A letter from an MSU cheer team member who alleges that her team was punished for reporting abuse with the support of Larry Nassar.
SUPPORT THE SHOW
RELATED EPISODES
MORE WAYS TO LISTEN