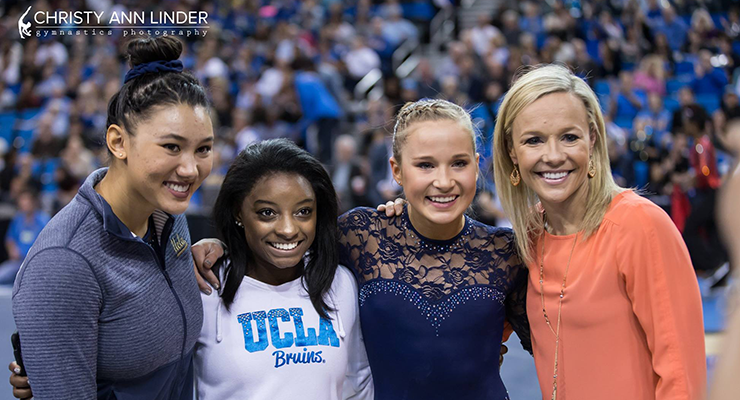 LISTEN HERE
IN THE NEWS
In the news, Uncle Tim, Spencer, and Jessica chat about:
Our favorite and least favorite moments from 2016 (2:50)
NCAA Recap (14:00)

Five freshman World Champions competed this weekend, including for the first time ever, two Olympic gold medalists.

The Bars score controversies –

Skinner

and Kocian

Balance beam situations – Georgia and UCLA

Natalie Brown's Syrian refugee-themed floor routine (

from preseason

)

Beam Queens:

Sarah Finnegan's 9.950 beam routine

,

Kiana Winston's 9.950 beam routine 
SWAGGIE MAGGIE NICHOLS!!!!
Macy Toronjo (UCLA/Texas Dreams) exhibitions after going blind in both eyes earlier this year.

NC State: The

puking beam dismount

Chayse Capps and Ashley Gant superstar-ness
GYMTERNET NEWS
Our weekly roundup of the latest news stories from around the gymternet include (57:00):
Aliya Mustafina doesn't miss gymnastics
Oleg Stepko's coach went back to Ukraine
Cheerleading granted provisional Olympic status 
Pegxit : Peggy Liddick will lease Gymnastics Australia
Jake Martin on coming out to his OSU teammates and being team captain 

Putin's daughter

does this weird acro-ballroom dance hybrid sport and

is good

!

USA Gymnastics Sexual Abuse Investigation update (1:05:20):

New lawsuit by MSU softball athlete who went to the administration about Nassar's procedure in

1998

International Gymnastics Federation 'very concerned' by US sex abuse claims 
18 women sue USAG, MSU and John Geddart's Twistars club for failing to protect them from sexual abuse at the hands of Dr. Larry Nassar

Simone Things and Aimee Boorman being a hero coach and shinning example to all
Gabby Douglas becomes ambassador against online harassment

Amy Tinkler has parted ways with her personal coaches

Maria Paseka refuses to retire!
RELATED LINKS
SUPPORT THE SHOW
RELATED EPISODES
MORE WAYS TO LISTEN