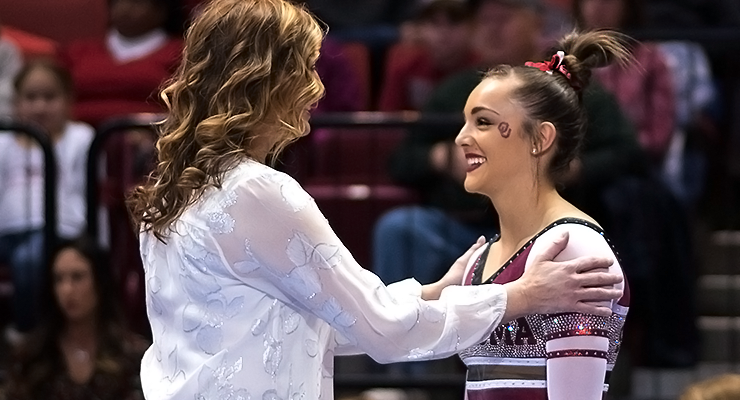 LISTEN HERE
THE NCAA NEWS
Spencer and Jessica recap the week in college gymnastics:
Who has joined the hall of 10's.

McMurtry DTY,

Karas Michigan 1.5

for 9.975,

Zaakira Muhammad, WVU,

perfection on a full for 9.900.

Kennedi Edney wasn't supposed to do AA, steps in on floor

with this-–

that wasn't even in the lineup before, wins AA.

Taryn Fitzgerald at Stanford

front aerial landing on two feet

.

Crack or Correct: The most controversial scores of the weekend.

McMurtry's DTY

– only got a 9.995. Should it have been a 10? 

Sofie Seilnacht got a 9.7 from one judge, 9.75  from the other for this gorgeous beam routine. Robbed or fair? 
THIS WEEK'S INTERVIEWS
The 2015 team World Champion, bronze medalist on floor and national treasure, Maggie Nichols, talks about her transition from elite to college gymnastics at Oklahoma. KJ Kindler, two-time national championship coach of the defending NCAA champs at OU join us to nerd out about:
Maggie Nichols (21:00): 

The arm landing position question answered!

Oversplits
How she increased her level of fitness after her knee injury.
Going pro
Secret skills she worked on that fans never got to see.
Skills she's thrilled she'll never have to do again!

KJ Kindler (38:25):

How she manages to dominate from January through April. 

What are her secrets to such a dominant, consistent beam team.

Did she always know that Chayse Capps was going to be a star

How did Brenna Dowell and KJ negotiate Brenna's return to elite last year
The story behind the Syrian refugee floor routine and how the team handles the current political turmoil (American Refugee Committee).
Sultry choreography

Why Natalie Brown had to take the slither out of her routine. Watch it

 here,

RIP "The Slither."

Chayse Capps

beam drop.

Correction: an earlier version of this episode misidentified Maggie's knee injury. She dislocated her kneecap in 2014 at Pan Am's and had meniscus surgery in April 2016.
GIVEAWAY
HOW: Tell us what the historic UNC LGBTQ meet meant to you. Be as creative as you want. A story about how gymnastics helped someone come out. Or how gymnastics taught you to be a better ally. Use the hashtag #ThxUNCgym on Twitter, Instagram or Tumblr. We will pick a winner from a random drawing of entries.
DEADLINE: February 5th, 2017 
PRIZE:
Three "Carolina Gymnastics Love is Love" t-shirts from the meet (sizes S, M and L) 

Commemorative tickets from the event

One pair of the famous ombre blue and black Carolina Nike shoes (size 7.5, see far right shoes in the photo above)
SUPPORT THE SHOW
RELATED EPISODES
MORE WAYS TO LISTEN