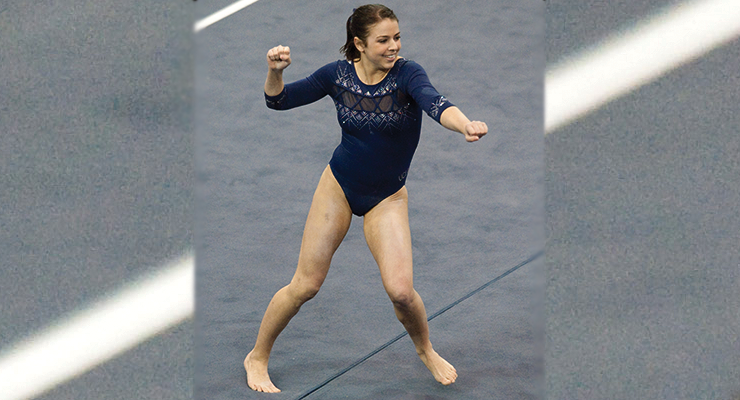 Ariana Berlin is happy, goofy, surprising, unique, beautiful and partially made of steel. She made her mark on college gymnastics by bringing her professional hip hop dance background onto the competition floor. Her floor routines were something totally new and sometimes controversial but always entertaining. But the road to NCAA finals almost went through the grave. "Ari" went from a being a promising level 10 gymnast, about to test for elite, to a girl in a coma, told when she woke up that she would never do gymnastics again. Though a car accident almost killed her and her mother, losing gymnastics was heartbreaking. She found solace in dance with the world famous hip hop troupe Culture Shock. A dance performance in front of UCLA head coach, Valorie Kondos-Field led her back to gymnastics. After years away from the sport, with a rod holding her femur together, Ari walked onto the UCLA gymnastics team, earned a scholarship and became one of their most consistent gymnasts of all time. While at UCLA she hit 175 of her 182 career routines (96%) without a fall, never missed a competition in 57 consecutive meets. In the final competition of her career, the former walk-on, placed fourth all-around at the 2009 NCAA Championships. We talk about the movie based on her life called, Full Out, staring Flashdance star, Jennifer Beals. We discuss:
GymMyth Busters Full Out edition; we separate fact from fiction and talk about the liberties taken with her story in order to deliver a dramatic message of inspiration.
Being star struck and all of the cameos:  Alicia Sacramone, Jordyn Weiber, Victoria Moors, Samantha Peszek and Elfie Schlegel are all in the movie!
Ariana's advice for walk-on (non-scholarship) athletes, how to get onto your dream team and what to do even if finances won't make it easy.
How she became so consistent and her mental game.
Dealing with the haters who claimed her ground breaking hip-hop floor choreography was cultural appropriation or racially inappropriate.

In the news this week, Evan Heiter and Jessica chat about:
Simone Biles going pro: Is it too soon or the perfect time to turn pro? If  this will affect her preparation for Rio and which  brands we want her to endorse!
The first ever all adult gymnastics camp took place in July at Atlantic Gymnastics in New Hampshire. We talked to the camp director Gina Paulhus, gym owner Tony Retrosi and two campers to find out what made this weekend such a sucess.

The clinics by the pool that made this camp unique: dealing with fear and mental blocks, physical therapy sessions,  and a class on nutrition for the adult gymnast with tips on balancing snacks and meals between work and family on the way to the gym.
Why Tony Retrosi, gym owner and coach, supports adult gymnastics and the adult camp.
Campers Ryan and Stefane explain how the camp accommodated:

different gymnastics and fitness levels
people who didn't do every event
made the schedule reasonable for all levels
helped everyone feel welcome by hosting everything from dinners to beach trips

The fun awards Gina created to make each camper feel special.
Tony's advice on the best student to coach ratio for adult gymnastics classes.
How to identify the right coach for an adult gymnastics class.
Afraid to try adult gymnastics? Stefane and Ryan explain how adult gymnastics has helped them find their community and why they recommend it to others.

Find out how to watch P&G Championships (the US National Gymnastics Championships) and hear Samantha Peszek and Evan Heiter do reprise last year's commentary fabulousness on the official website pgchamps.com
Find out more about Adult Gymnastics Camp Director, competitive adult gymnast and personal trainer, Gina Paulhus here.
Tony Retrosi's website is gymmomentum.com
Here is Gina's article with details on the schedule, costs, demographics, staffing and photos of adult gymnastics camp!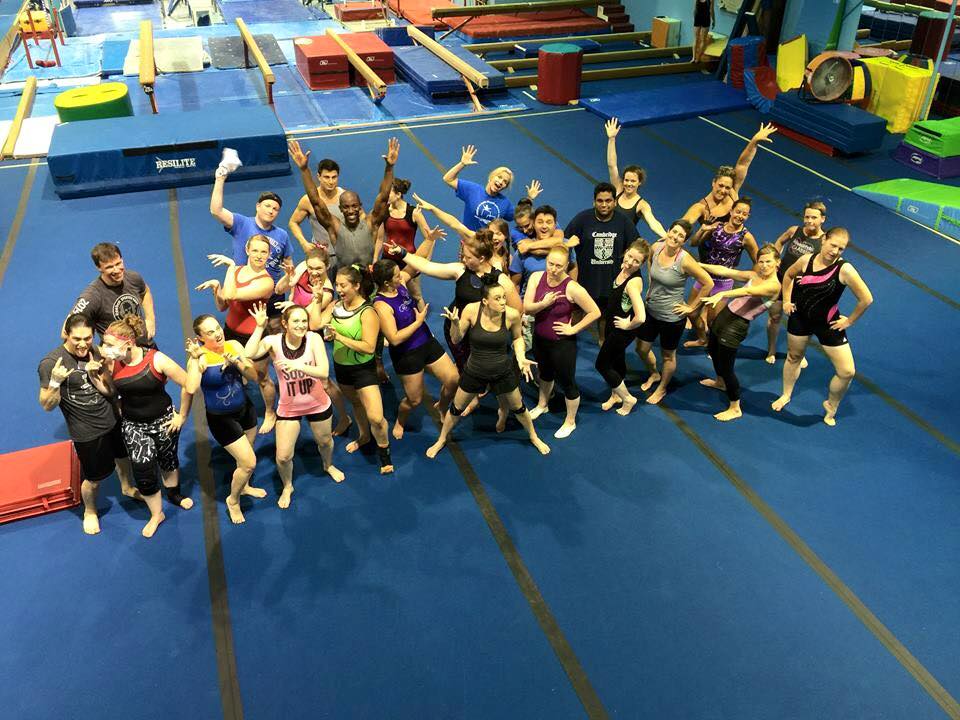 Watch this week's playlist on YouTube here.