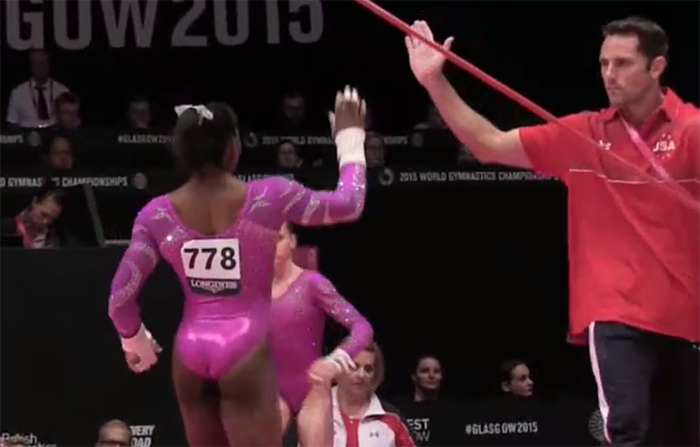 LISTEN HERE
IN THE NEWS
Spencer and Jessica detox from worlds by working through their feelings about
SIMONE IS COMING BACK! AND SHE'LL BE COACHED BY THE LANDIS!
Aly Raisman's book comes out November 14th and is available for preorder. We have many hopes and dreams for it. 
The NCAA has fulfilled Greg Marsden's vision and approved a no-bye postseason and four-team championship
Our latest crusade: Why worlds must be moved out of Qatar
Our proposals to fix the format of world championships in order to improve the level of competition and condense the length
GYMTERNET NEWS
Our weekly roundup of the latest news stories from around the gymternet includes:
Russian drama!

International Gymnast magazine is in trouble for what it said about Gabby. 
Norway is on the forefront of gender equality, and we have some recommendations for the IOC and FIG. 
Samir Ait Said wants to become an MMA fighter. Because of course he does. 
High school boys are being barred from joining the women's gymnastics team and we are NOT having it.
Kenzo can do a Mustafina turn. Should he put it in his routine?
SafeSport updates about Dominque Moceanu, Mary Lou Retton, Michigan State, Jeena Nilson (a sex offender volunteering at Altius Gymnastics Club in Utah, not the one in WI) and 1992 Olympic Champion, Tatiana Gutsu has accused Vitaly Scherbo of rape.
YOUR FEEDBACK
Is having bizarre donut-shaped medals with holes in them really that weird?
Excellent proposals for how to integrate robo-judging
Do we have a double standard when it comes to calling out racism?
STOP PICKING ON JADE CAREY
Tales of crazy-ass vault runs, plus a gymternet assignment!
SUPPORT THE SHOW
NORBERT'S
Our friends at Norbert's want you to know about the new Victory Tumbler handspring trainer. Go to norberts.net and enter coupon code "Gymcastic" for a 10% discount.
RELATED EPISODES
MORE WAYS TO LISTEN