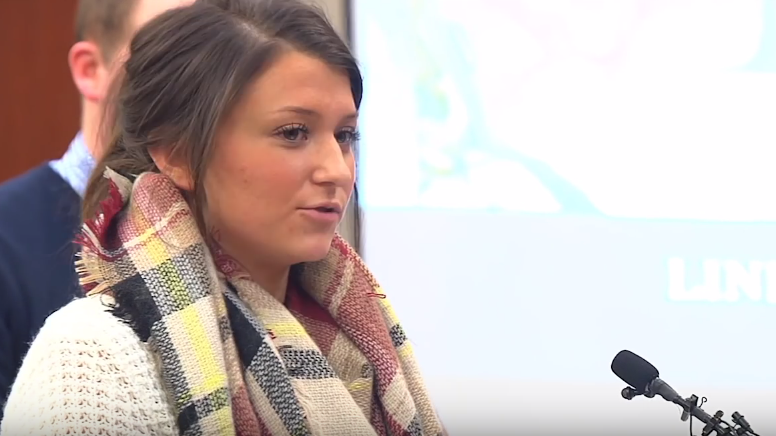 LISTEN HERE
IN THE NEWS
Victim impact statements in the sentencing for Larry Nassar began last week and continue this week. You can continue to watch it live here.
Kyle Stephens: 

"Little girls don't stay little forever. They grow into strong women that return to destroy your world."

Lindsey Lemke: 

"Larry, I hope you, Lou Anna Simon, Kathie Klages, John Geddert, and all of USAG are scared, because you have pissed off the wrong army of women."

The awfulness of Geddert, quote by quote, story by story
14 were warned of Nassar abuse at MSU, at least one of whom is still working with the gymnastics team! WHAT?!
Jordyn Wieber: 

"Larry Nassar is accountable. USA Gymnastics is accountable. The U.S. Olympic Committee is accountable. My teammates and friends have been through enough and now it's time for change."

Aly Raisman: 

"Imagine feeling like you have no power and no voice. Well, you know what, Larry? I have both power and voice, and I am only beginning to just use them."

That insane letter Nassar wrote to the judge

Miss Val opens can of

Whoop Ass on USAG

What you can do:

S 534 Protecting Young Victims from Sexual Abuse and Safe Sport Authorization Act of 2017 — Make sure it passes.
USAG announces that it will no longer be using the ranch.
What do we make of this?
Is it progress or just cynicism?
A listener asks: Why can't the women just use the Olympic Training Center?
Plus, is decertification an option? What does that actually mean? And what was the deal with Nastia's apology?
MEET NEWS
A rundown of the current leaders in NCAA gymnastics
All of Elizabeth Price's accomplishments over the last three weeks (there have been a lot)
insane floor save from MyKayla Skinner
Sabrina Vega scores 9.950 on floor
Our obsession with the 

Toni-Ann Williams 

slip-and-slide vault

warmup

Stella Savvidou's one-arm floor routine: amazing, dangerous, or both?
FEEDBACK
We respond to your questions and comments all about
Piked Arabians on beam?
The difference between moral duty and legal duty
Clarification on what "the Liukin" actually is
Does the US train too hard leading up to competition? (Hint: YES)
Why can't we just get rid of camps entirely?
Bad coaching vs. good coaching
Little Girls In Pretty Boxes
NCAA gymnasts as possible individual competitors in 2020
SUPPORT THE SHOW
In episode 281.5 Jessica presented the  O'BEIRNE MANIFESTO FOR CHANGE. Six areas in which USA Gymnastics must improve immediately, otherwise nothing will ever get better and they will never gain back the trust of the members. We'll cross off things that have been accomplished.
Transparency: Daniels Report compliance list link on the USAG homepage.
Gymnast Union: Athletes and parents need to start a union to eliminate the conflicts of interest inherently built into any National Governing Body system and to end the fear of retaliation.
Consequences: Debbie Van Horn, Paul Parilla and the rest of the board need to go, immediately.
Comprehensive Training: Every employee from president, Kerry Perry to the receptionist and all board members of USAG need in-person, day-long abuse prevention training on an annual basis. 
Limit Alcohol: One drink when coaching duties are over with a meal, per day. Period.
No Gray Areas: All national team staff, parents, athletes and coaches need to be educated and empowered to enforce SafeSport rules. And to call eachother out for violations.
CASPER
This episode is brought to you by Casper. Casper is a sleep brand that makes expertly designed products to help you get your best rest, one night at a time.
Get $50 toward select mattresses by visiting Casper.com/gymcastic and using gymcastic at checkout. Terms and conditions apply.
RXBAR
This episode is brought to you by RXBAR. For 25% off your first order, visit RXBAR.com/gymcastic and enter promo code gymcastic at checkout.
RELATED EPISODES
MORE WAYS TO LISTEN