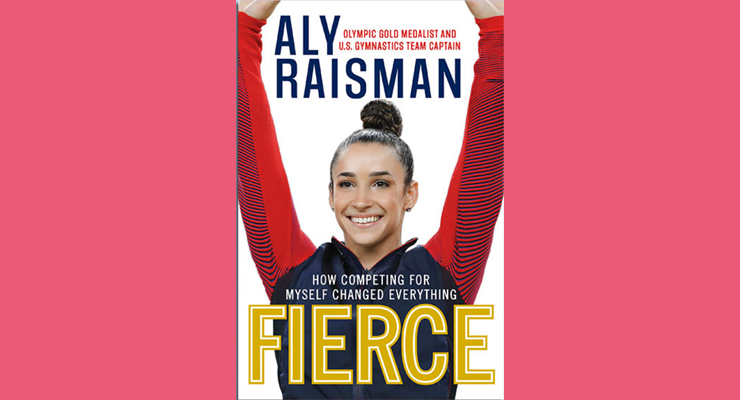 LISTEN HERE
IN THE NEWS
The Gabby Tweet Heard 'Round the World (1:00)
FIERCE (13:13)
Aly Raisman's book, Fierce: How Competing for Myself Changed Everything, was released last week. We talk through all of our feelings about it as a gymternet family.
Why this is the best gymnastics book ever written for this age group

USA Gymnastics does not come off well. At all. It's awesome.

The post-Olympic tour is a hellscape

Aly's experience with Larry Nassar is quite telling about exactly how this went on for so long and the very understandable reasons that victims don't speak about their experiences

We need to talk about this mysterious Fran character

Why the section about nutrition is a MUST-READ for all elite and NCAA coaches and gymnastics parents.

Seriously. Read it right now. GO!

Also check out Episode 230 to learn about the WellnessFX program

All the other sweetest, funniest, standing ovation moments we loved
GYMTERNET NEWS (1:26:45)
British Gymnastics athletes are taking a stand against the organization!

Why a group of athletes, including Max Whitlock, Ellie Downie, Amy Tinkler,

is currently declining to sign

new contracts with British Gymnastics

The athletes have some very familiar concerns about lack of transparency in terms where the money is going and an overall culture of fear and favoritism
TUMBL TRAK GIVEAWAY
Send in your story of a funny or embarrassing handstand moment (the more embarrassing the better), and you could win a $200 Tumbl Trak gift certificate!
Open to Club Gym Nerd members only
Deadline: December 3rd
Send your story to gymcastic@gmail.com with the subject line: Tumbl Trak Handstand Story
The person with the funniest or most hilariously embarrassing handstand story will be chosen as the winner
NORBERT'S GIVEAWAY
Norbert's is giving away a four-foot sectional beam!
To win, just email us at gymcastic@gmail.com with the subject line "I want the Norbert's beam" and tell us…that you want the Norbert's beam
Deadline: November 25th
While you visit norberts.net to fantasize about that glorious little beam, check out NORBERT'S Gifts For Gymnasts Feature. Order by Dec 1st to receive your item by Dec 24th.
For a 10% discount enter code "Gymcastic" at checkout when you visit norberts.net.
SIMPLE CONTACTS
This episode is brought to you by Spencer's literal obsession, Simple Contacts. To renew your contact prescription online (in five minutes, without visiting the eye doctor) and order your new contacts, visit simplecontacts.com/gymcastic and use the promo code "gymcastic" to save $30 off your purchase.
SUPPORT THE SHOW
RELATED EPISODES
MORE WAYS TO LISTEN