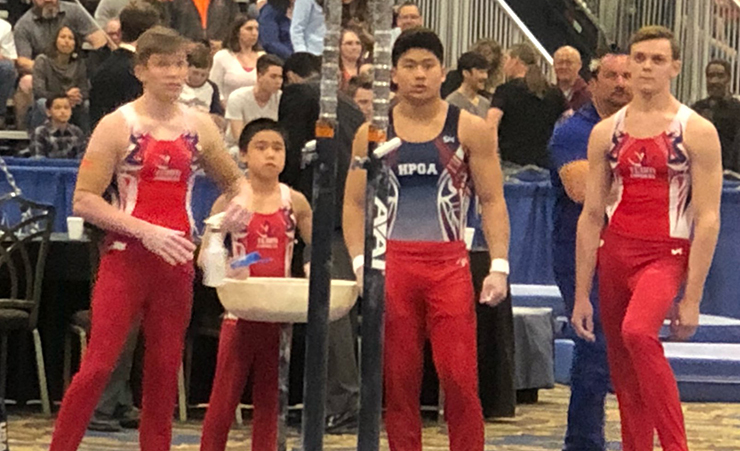 LISTEN HERE
Read the episode recap here.
GYMTERNET NEWS (2:05)
The

Preventing Young Victims from Sexual Abuse and Safe Sport Authorization Act

has been signed into law!

What it says, why it's important, and also GO TO THE POLICE!

Aly, McKayla, and others refuse to

participate in the USOC investigation and lay the smackdown on Scott Blackmun

We rage about those HORRIBLE local news fluff pieces where coaches proudly proclaim that none of their gymnasts were abused. 

Dave Chapelle on imperfect allies in part two of his Netflix special,  The Bird Revelation.

USAG will be STREAMING the LSU verification meet. Is this meaningful transparency?
A whole bunch of US individuals will be competing at Jesolo, just like we told them to!

Skinner is

entertaining the possibility

of going for 2020 (39:48) 

A rundown of how that would work in the super-complicated 2020 qualification format

Thoughts on Megan Marsden's less-than-enthusiastic reaction to the idea

Elena Eremina had

 

back surgery, so life is canceled for six months

The official response from the FIG regarding LGBT gymnasts and staff in Qatar for the world championship (1:08:57):

"We understand your concerns with regards to LGBT gymnasts and staff at the 2018 Artistic Gymnastics World Championships in Doha.However, as a FIG member and by hosting the championships, the Qatar Gymnastics Federation adheres to the FIG Rules that does not allow any kind of discrimination or any violation of human rights as per Article 2.2 of the Statutes and Article 1. of the Code of Ethics.During the last ten editions of the Doha World Cup no incident has become known, where a gymnast, coach, official or fan has faced any mistreatment in this regard. The same applies to World Championships of other sports that have been held in Doha, including the 2015 IHF Handball World Championships, the 2015 AIBA World Boxing Championships and the 2016 UCI Road World Championships as well as the annual ATP and WTA Qatar Open tennis tournaments.As long as the participants, coaches, officials and staff, irrespective of their race, sex, language or religion, respect the law of the host country and abide by the rules, there is no reason to fear imprisonment."
NCAA NEWS (50:46)
WINTER CUP (1:21:45)
Jessica is joined by Kensley to discuss this year's Winter Cup Challenge in Las Vegas. They break down Sam Mikulak's dominant victory, how it wasn't the most terrifying competition in the history of gymnastics (WHAT?), and a gymnast who stole the whole show by the name of Asher Hong. 
Who made the National Team and changes to the national team selection process and the dreaded point system (link to Day One points)
Our theories on why this meet wasn't terrifying this year
Should 18-year old NCAA athletes be allowed to compete with true juniors?
Sam Mikulak, a fall in the all-around and it doesn't matter.
Marvin Kimble goes 12 for 12 and shouts it from the rooftops
Highest D and E winners
| | | |
| --- | --- | --- |
| Event | Hardest D | Best Execution |
| FX | 5.8 Modi/Shaun Herzog | 9.4 – Grand Breckenridge |
| PH | 6.4 Naddour | 9.0 Nedoroscik (NCAA PH champion) |
| SR | 5.9 Kimble | 8.95 Riley Loos (JR) |
| VT | 5.6 Kimble | 9.6 K. Penev |
| PB | 6.3 Mikulak | 9.15 Mikulak |
| HB | 6.3 Kimble | 8.75 Mikulak |
For an in-depth look at all the routines, check out Kensley's live blogs of Prelims and Finals.
SUPPORT THE SHOW
MY GYM JUDGE
MyGymJudge bridges the gap between you and the judges! It's simple. Go to www.mygymjudge.com, submit a video of your routines, and receive detailed analysis from one of our incredible judges.
My Gym Judge sets out to empower athletes, coaches, and parents with the knowledge to both UNDERSTAND their scores and HOW to improve upon them. Their certified judges include judges who judge at Olympic Trials and World Championships, like Chellsie Memmel and Loana Cruz!
RELATED EPISODES
MORE WAYS TO LISTEN