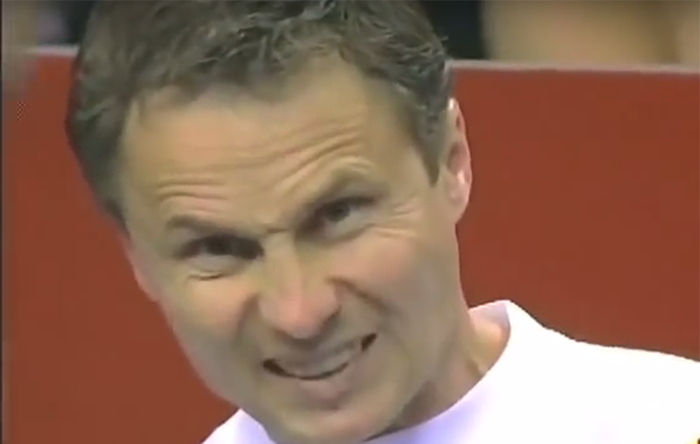 LISTEN HERE
GYMTERNET NEWS (03:28)
Valeri Liukin has RESIGNED as National Team Coordinator!

Our reactions
Was Valeri forced out, or did he decide this himself?
Who should succeed him as NTC?

The state of the current WAG program

Larry Nassar's FINAL sentencing (37:33)

We might never have to look at him again!
The dad who lunged at him in court. Yea or Nay?

Michigan State offices raided by law enforcement
The USOC failed to act on Nassar's abuse for a full year (Shock! Surprise!)
Senator Gillibrand calls for the DOJ to investigate the USOC
The New York Times says at least 40 people were abused by Nassar AFTER the FBI already knew about him.

What an ACTUAL FBI agent told Gina Nichols, and why it sort of blows up USAG's party line
THE. SIMONE. MOVIE. (52:38)
Ironically amazing or actually amazing?

WHAT WAS THAT RANCH?

That thing where Aimee has to explain to Martha what gymnastics is

The Biles is really just a whip 1/2, you guys
Why the casting of the national team maybe needed some work
And SO MUCH MORE.
MEET NEWS (1:08:57)
All about THAT Oklahoma/UCLA meet

We find out how many times Jessica cried
Why this meet perfectly encapsulated everything about college gymnastics and everything sport should be
Spencer has to ruin the mood by whining about the scores

Charlie Tamayo is out at Georgia

Alex McMurtry explains why she opted out of elite

Brooklyn Moors won Elite Canada and has a new, UPGRADED floor routine (1:34:18) 
SUPPORT THE SHOW
MY GYM JUDGE
This episode is brought to you by MyGymJudge. MyGymJudge bridges the gap between you and the judges. It's simple. Go to www.mygymjudge.com, submit a video of your routines, and receive detailed analysis from one of our incredible judges.
My Gym Judge sets out to empower athletes, coaches, and parents with the knowledge to both UNDERSTAND their scores and HOW to improve upon them. Their certified judges include judges who judge at Olympic Trials and World Championships, like Chellsie Memmel and Loana Cruz!
GO to www.mygymjudge.com today and use the code GC20 to receive a 20% discount!
RELATED EPISODES
MORE WAYS TO LISTEN