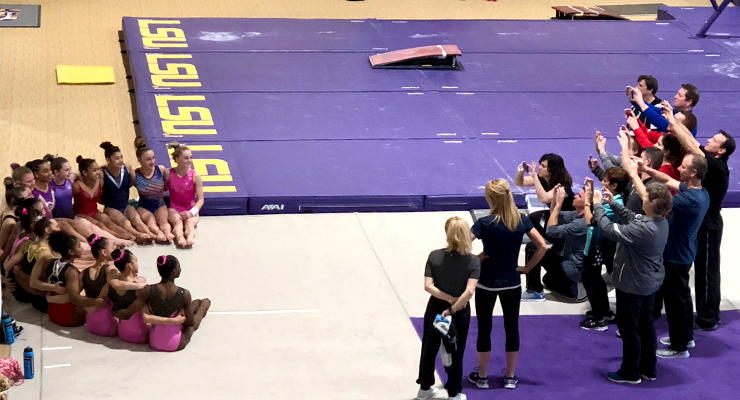 LISTEN HERE
ELITE VERIFICATION
Jessica was at LSU for elite verification! (5:00)
Much like Santa Claus, Jessica Claus arrived in the middle of the night to bring us
All the inside scoop we could ever ask for
Trinity Thomas, Margzetta Frazier (43:30), and Jordan Chiles (50:13) reacting to the new verification experience in their own words
An exclusive interview with Rhonda Faehn where she discusses (59:20)

What her job actually is, especially now
The search for a new NTC: whether the position will be split into different jobs, who will be making that decision, and what USAG is looking for from its new NTC
Why people should trust her, a former Karolyi gymnast, to bring a change in culture
The search for a new national training center, and much more
Plus, Jessica answers all of our (so, Spencer's) questions about verification like
What was the atmosphere? And more importantly, was it weird?
How is Safe Sport being employed in the national team system now?
What was the parents' reaction to being invited in?
What do those involved think about the changes and the future of USAG?
WHY WHY WHY were so many gymnasts not shown on the live stream?
Is there still a selection committee? Who is on it? How involved were they in the verification? Were they giving feedback?
Were the international assignments based directly on the results of verification?
For how long will this temporary system be in place?
Did anyone give a big dramatic speech addressing all the elephants in the room?
What is the new LSU gymnastics palace like? Were other NCAA coaches there?
What happened that would NEVER have happened at a Martha camp?
Also, the gymnastics (1:22:24) ! Detailed news on all the various perfections (Riley McCusker! Shilese Jones! Olivia Dunne! Adeline Kenlin! Jafree Scott! Kara Eaker! Kayla DiCello! Leanne Wong! Audrey Davis! Jordan Bowers! Konnor McClain! Alyona Shchennikova!) that you didn't see on the live stream.
GYMTERNET AND MEET NEWS
Kensley joins in to keep everyone vigilant about what's going on with the men's program and why it's not being held to the same standards of change as the women's program. AKA, welcome to the "conflicts of interest" portion of the show! (1:46:59)
A period of mourning for Kennedy Baker's Achilles and a story about Kennedy Baker bringing old nemeses together and basically single-handedly creating world peace because Kennedy Baker (1:52:40)
Cal beat Utah for the second time ever and set ALL THE RECORDS in the process
Exciting US MAG World Cup assignments, and why they kind of don't make sense (1:59:58)
All the big developments from the Melbourne World Cup including Chen Yile, Georgia Godwin, Milad Karimi, Aruna Buddy Reddy, and Hidetaka Miyachi (2:03:24)
British Gymnastics has officially fired Eddie van Hoof, who led the MAG team from 2005-2017, for very vague reasons following an independent investigation (2:09:00)
More Stacey Ervin WWE news!
LIVE SHOW AT NCAAs
We're doing a live show at NCAA nationals this year, featuring Jessica, Spencer, and maybe some very secret, very special guests! SOLD OUT.
WHEN: Thursday, April 19th from 7:30-9:00pm in St. Louis.
T-SHIRT DESIGN CONTEST
OVERVIEW
The college gymnastics season is in full swing, and we're on the hunt for designs to put on t-shirts and swag that celebrate our love of this amazing sport. That's why we're bringing back our GymCastic design contest bigger and better than ever before (think Ebee's DTY).
Submit your best college-themed designs and you could be one of 5 winners whose art will be seen on the bodies of gymnerds everywhere.
THE PRIZE
Your design and name/website featured on our page
Your artwork made into merchandise to be sold in the GymCastic store
A free t-shirt of your choosing from our merch store.
THE MISSION
Create an college gymnastics-centric design that will make us moan like Kathy Johnson-Clarke.
Submit your original design by posting it on Twitter, Tumblr, or Instagram with hashtag #gymcasticdesigncontest and email it to us. Bonus points for collage-style images!
We use a site called TeePublic to print our merchandise. They do a great job of explaining their artwork requirements on their website. The most important thing is that if you win you will need to submit your art as a PNG file with a transparent background. Check out their Design FAQ at www.teepublic.com/faq
WARNING: This art must be your own original design. Directly using an image of a person (or the logo of a team) without their consent is frowned upon, and also a intellectual property violation. We can't use your design if you do. Silhouettes are a gray area, and are usually acceptable.
Deadline:  Saturday, March 17 (St. Patty's Day!) Questions? Email us at GymCastic@gmail.com.
SUPPORT THE SHOW
RELATED EPISODES
MORE WAYS TO LISTEN