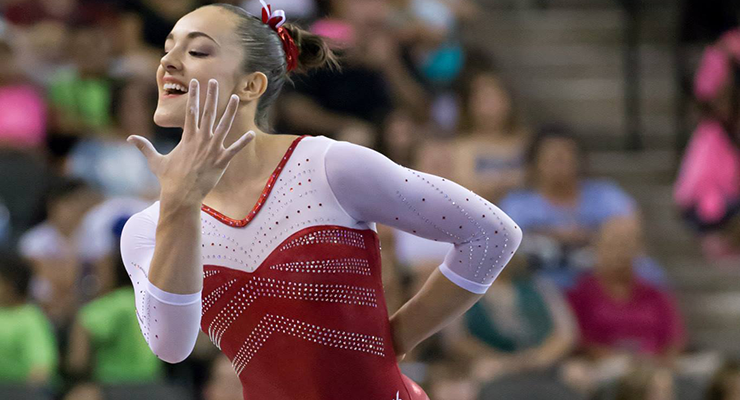 This week Evan Heiter and Jessica preview the 2015 P&G Championships, and Spencer from The Balance Beam Situation recaps Gymnastike's "Beyond The Routine" show about Gabby Douglas and Nia Dennis at Buckeye Gymnastics.
The Maggie Nichols factor – Don't doubt the power of the swag! How her injury at last year's Pan Am Championships will make her this year's newest World Team member.
How to watch Team Sam Peszek and Evan Heiter rock the commentary game with Raj Bhavsar all week long in Indianapolis.
Why Norah Flatley will be missing this competition.
Which "2000 Babies" (AKA juniors who will be age eligible for the Rio Olympics next year), have the best chance making a case for their spot on the Rio team: 

Rachel Baumann, Desiderio, Foberg, Frazier, Gaskins, Laurie "Baby Shakira" Hernandez, Johnson-Scharpf, Paulson, Quinn, Ragan "Feivel" Smith, or Olivia Trautman.

We each pick the routines that must be seen lest the Gym God's rain down fire upon your soul!
Upgrades and Placement: Will Gabby upgrade here or wait for Worlds? Is Kyla keeping her Bhardwaj or downgrading bars because of her fall at Classics? Will Simone throw her Cheng vault in Indy?
Which specialists need to absolutely slaughter their event in order to make the team for Worlds?
Which men are most likely to break into the old boys club and steal the coveted specialist spot for Scotland.
How MyKayla Skinner and her choreographer got themselves into the Glasgow news for an epic leotard-related cultural gaffe.
Why every time Sydney Johnson-Scharpf does a routine or Brenna Dowell approaches bars, Vegas-style lights should ignite around the apparatus and everyone should fall to their knees in worship!
The draw for the World Championships is out so we had to debate the US team merits starting vs. finishing on beam.
Finally, Spencer recaps Gymnastike's "Beyond The Routine: Buckeye"

He rides the "implied shade express" as Gabby talks about her legitimate comeback and why new coach, Kittia Carpenter is a supportive person (as opposed to…)
Like a gymnastics version of CSI, we dissect the clues that led to Nia Dennis's departure from her longtime gym, Buckeye for Legacy Elite.
Discuss what coach Fernando Villa and Gabby would look like if they watched Dance Mom's together.
We appreciate all of the moments when Mr. Positivity, Christian Gallardo, is on camera.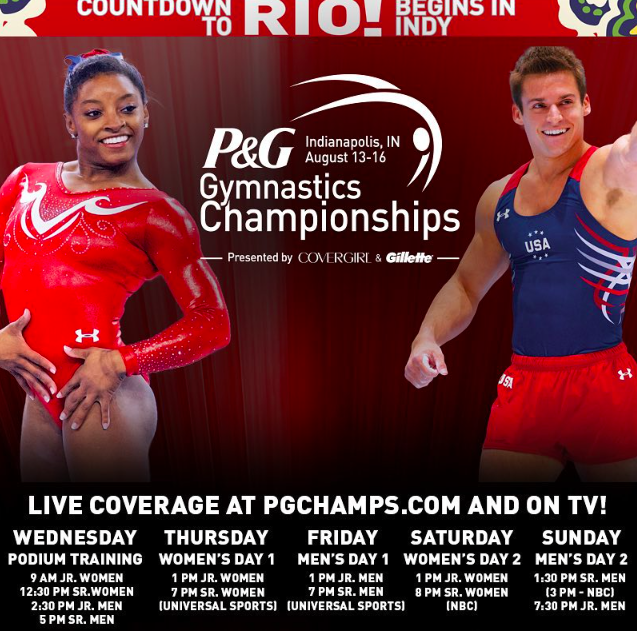 Results for P&G Championships are at pgchamps.com. All sessions will be streamed live on pgchamps.com/live.
If you are having trouble with access to Universal Sports outside of the US, try using a VPN. Our listeners recomend TunnelBear, Hola, ZenMate and GetUsVPN.
TV Broadcasts (all times Eastern):
Aug. 13 Women's gymnastics – 7:30-9:30 p.m. – Universal Sports – LIVE
Aug. 14 Women's gymnastics – 12-2 a.m. – NBCSN – taped
Aug. 14 Men's gymnastics – 8-10 p.m. – Universal Sports – LIVE
Aug. 15 Men's gymnastics – 1-3 a.m. – NBCSN – taped
Aug. 15 Women gymnastics – 8-10 p.m. – NBC Sports – LIVE
Aug. 16 Men's gymnastics – 3-4:30 p.m. – NBC Sports – LIVE
GymCastic Listener Meet-Up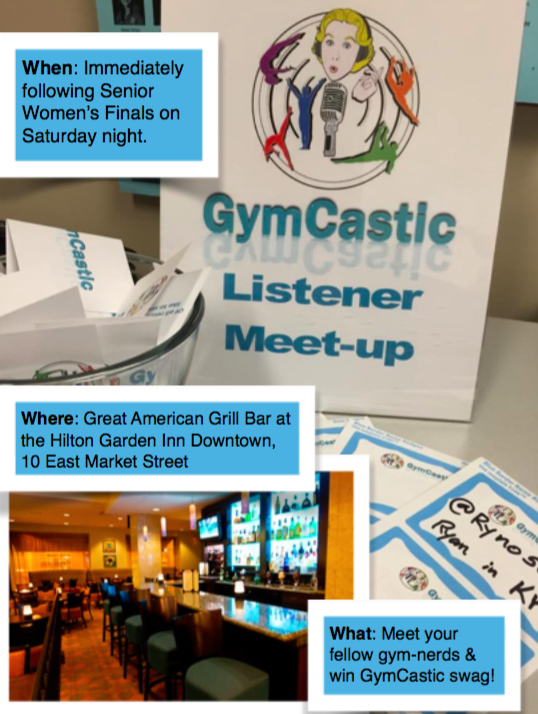 Watch the full episodes on Nia and Gabby on Gymnastike Gold