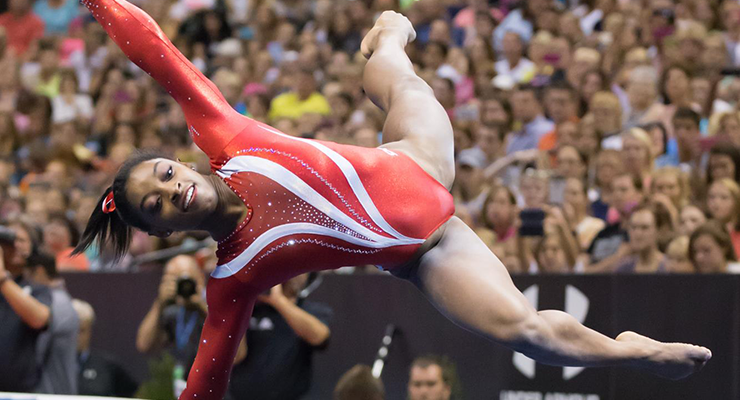 2015 National Champion, Laurie Hernandez, teammate 2014 National Champion Jazmyn Foberg, Texas Dreams superstar Ragan Smith and new national team member Sydney Johnson-Scharpf joined us for a live video broadcast on Periscope. Periscope only archives broadcasts for 24 hours but our video will be uploaded to YouTube soon. We asked them what they were most proud of this weekend, new skills, nicknames, Sydney's balance beam crash in warm-ups and what their national team theme song should be for 2015.
After the kids went out to party, national team coaches Christian Gallardo and Aimee Boorman joined us. Christian coached Nia Dennis at Buckeye Gymnastics and now coaches Shilese Jones and Olympic all-around champion Gabrielle Douglas. Aimee Boorman is the lifelong coach of two time world champion, Simone Biles. We discussed:
The Gabby Douglas strategy, is she playing it safe and waiting to upgrade until she absolutely needs to? We think that would be smart. But is she top three on any even right now.
Christian and Aimee explain, "Brestyan's Legs" a plyometric leg circuit that gives Aly ligaments of steel. Know we know why she hasn't blown out her knees one million times!
How they handle the NBC cameras and microphones that might catch conversations they don't want on air.
Why Simone and other gymnasts won't do triple twisting doubles or double double dismount on beam especially when there is no one touch in event finals.
Do Gabby and Aly Raisman coming back to the national team change the dynamic of the team at all?
Is Christian on Gabby's television show, Douglas Family Gold.
Aimee and Christian told us how they started gymnastics, who they were most impressed with at championships, their favorite leotards and leotard designers,  what rules in the code bother them the most.
Thoughts on their athlete's use of social media, for example, Ask FM.
A full explanation about the wolf turn trend and why everyone does them, even though 99% of them are  hideous. They propose a deduction for excessive turn preparation pause.
The time Simone tried to kill Aimee by rolling like a bowling ball into her ribs on the podium.
What they think about the NCAA recruiting rules, and Marta retiring.
The day Christian, who is not Simone's coach, knew that Simone was special, when Marta read her the riot act and Simone gave her the most honest and innocent
Which gymnast would be most likely to score a 10 under this code?
If camp was the Hunger Games which coach would win?
Their thoughts on how fast gymnastics is progressing and the weight of difficulty versus execution in the code of points.
Finally an explanation for the reason for the splatfest in prelims from Aimee's mom.

Christian Gallardo is on Twitter thanks to our Periscope viewers who met Christian's heart challenge! You guys made this happen! Make sure to follow him. 
Aimee Boorman is also on Twitter, where you can ask you about her Game of Thrones and Jon Snow theories.
Get video of every routine, photos and results from the 2015 P&G Championships.

We recapped the senior women's championships with Jessica, Lauren Hopkins, Cordelia Price, Dvora Meyers, Jennifer Lacopelli and Amy Scherer. We discussed:
Score analysis and info straight from Karolyi herself. There is a stick bonus in place but it's added to the difficulty score not the execution score. Execution scores had no bonus  here. Marta said that Brenna Dowell and Ashton Locklear would be invited to the Worlds selection camp because they might be needed as specialists.
Scratches from the meet including injuries to Alyona Shchennikova , Amelia Hundley, and Madison Desch.
The Kyla Situation : is it a lack of training on hard surfaces, endurance or the fact that her feet hit the mat on bars when she taps, that's holding her back from her normal performance. She hasn't missed an elite season in seven years. She's amazing! She will be fine. Everyone can shut it!
Simone Biles the potentially greatest gymnast of all time, broke another world record with a 9.9 execution score on vault in day two. We debate what wild fictional scenario could ever throw her off her game: a sharknado, a bee, or Zack Efron.
Bailie Key the silent ninja in her black ring master leotard costume
The wolf turn is worth too much and can't be deducted enough. It's time for a change, Nellie Kim!
Madison Kocian, the 2015 national bars champion, how she should prepare for the future and world's selection camp in order to contribute on more than one event.
Brenna Dowell, adult, and her coaches on what giving her space vs. blowing them off looks like.

Television, webcast and YouTube coverage
Live competition coverage.

Television. NBC will air the second day of both men's and women's senior competition sessions live. In addition, NBC Sports Network will televise the first two days tape delayed. The schedule is listed below.

Aug. 24 – Men – 3 p.m. ET – NBC, live
Universal Sports is streaming replays of women's and men's prelims can be found here.

Webcast. With analysts 2008 Olympic medalists Samantha Peszek and Raj Bhavsar, USA Gymnastics will provide live webcast coverage of all four junior competitive sessions, as well as the first night of both the senior women and men's competition. Former NCAA and Big Ten champion Evan Heiter will join Peszek and Bhavsar as the host. The webcasts will be available worldwide free of charge on PGChamps.com.

Aug. 16 – Jr. Men – 7:30 p.m. ET

USA Gymnastics on YouTube. USA Gymnastics will post coverage of the P&G Championships, including nearly every competition routine, after the conclusion of the event, interviews from media day and post-competition, and clips from podium training.
If you are having trouble with access outside of the United States, try using a virtual private network (VPN). Our listeners recomend TunnelBear, Hola, ZenMate and GetUsVPN.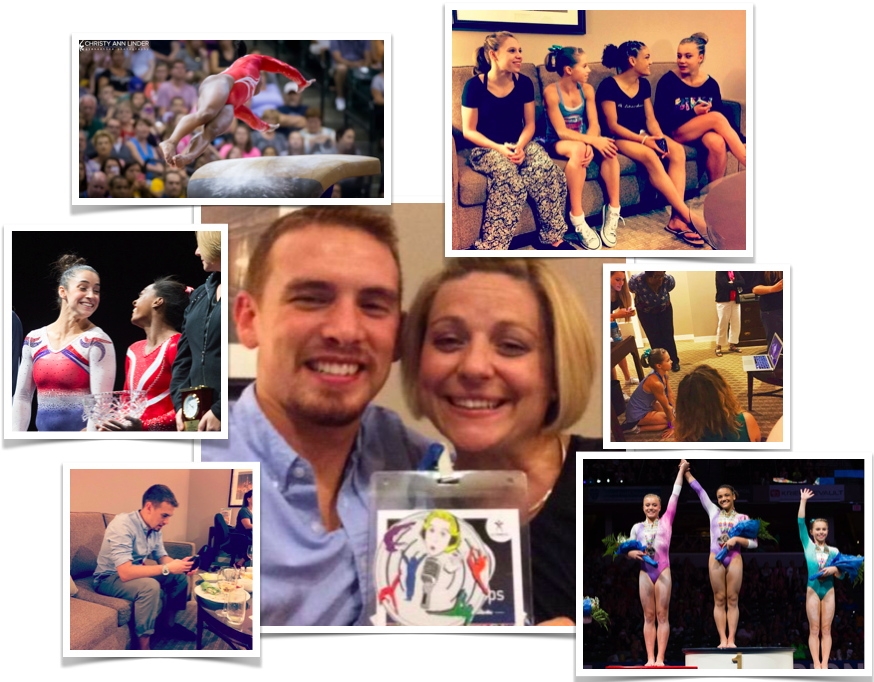 Coming soon, our Periscope broadcast will be up on YouTube here.