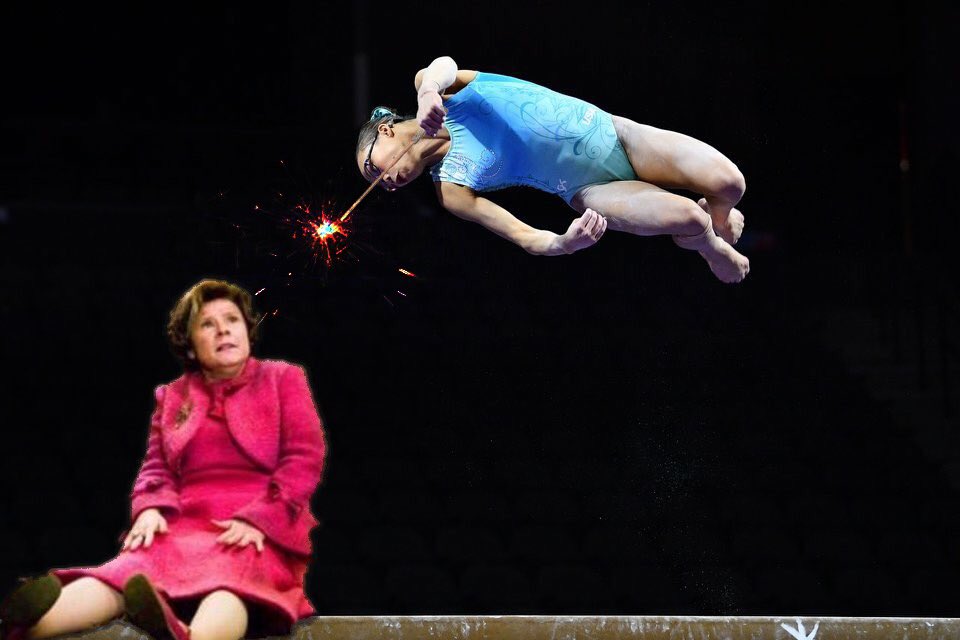 LISTEN HERE
AMERICAN CUP (5:00)
We get to talk about actual gymnastics this week! UNCLE TIM, Jessica, and Spencer discuss the big headlines
Morgan Hurd won all the everythings and has improved SO MUCH, even since worlds
Mai Murakami had the best performance by a non-American since 2011
Yul Moldauer's form (and hair) is the entire point of gymnastics

Kenzo had a no good, very bad day

Mao Yi broke her femur on an UNSAFE VAULT, but Morinari Watanabe brought her 100,000 bags of chips so it's all OK

Maile O'Keefe's ankles might have special powers, and we should look into that
From Petro Pakhniuk to Lorette Charpy to BROOKLYN'S FLOOR to Sun Wei

's vault height, we pick our special highlights of the meet. Jessica has five.

 (32:16)
It didn't all go…great, so we select our un-highlights from this year's American Cup, including
"The People's Republic of Japan" and why the PA announcer made Spencer feel unsafe

Brooklyn Moors breaking everyone's hearts/it does't matter because Brooklyn Moors

The failures of E score in the current quad (there are a lot)

Unacceptable behavior from cable-holders and camerapeople  (48:27)
And then there was the broadcast
A certain someone was missing from the broadcast team, and it was AMAZING

The way NBC handled addressing all the…everything…that has been happening. Yea or nay?

All those commercials for SafeSport and the USAG "athlete assistance fund"

And of course the Kerry Perry commercial. Oof. We have some thoughts. 
NCAA NEWS (1:14:20)
Why the vault judges need to PULL IT TOGETHER

The crackiest 10s in NCAA over the weekend

The important existence of Tyra McKellar

The Nastia Cup—who is going to take NCAA by storm in the near future?
GYMTERNET NEWS (1:34:57)
T-SHIRT DESIGN CONTEST
OVERVIEW
The college gymnastics season is in full swing, and we're on the hunt for designs to put on t-shirts and swag that celebrate our love of this amazing sport. That's why we're bringing back our GymCastic design contest bigger and better than ever before (think Ebee's DTY).
Submit your best college-themed designs and you could be one of 5 winners whose art will be seen on the bodies of gymnerds everywhere.
THE PRIZE
Your design and name/website featured on our page
Your artwork made into merchandise to be sold in the GymCastic store
A free t-shirt of your choosing from our merch store.
THE MISSION
Create an college gymnastics-centric design that will make us moan like Kathy Johnson-Clarke.
Submit your original design by posting it on Twitter, Tumblr, or Instagram with hashtag #gymcasticdesigncontest and email it to us. Bonus points for collage-style images!
We use a site called TeePublic to print our merchandise. They do a great job of explaining their artwork requirements on their website. The most important thing is that if you win you will need to submit your art as a PNG file with a transparent background. Check out their Design FAQ at www.teepublic.com/faq
WARNING: This art must be your own original design. Directly using an image of a person (or the logo of a team or word NCAA) without their consent is frowned upon, and also a intellectual property violation. We can't use your design if you do. Silhouettes are a gray area, and are usually acceptable.
Deadline:  Saturday, March 17 (St. Patty's Day!) Questions? Email us at GymCastic@gmail.com.
SUPPORT THE SHOW
RELATED EPISODES
MORE WAYS TO LISTEN