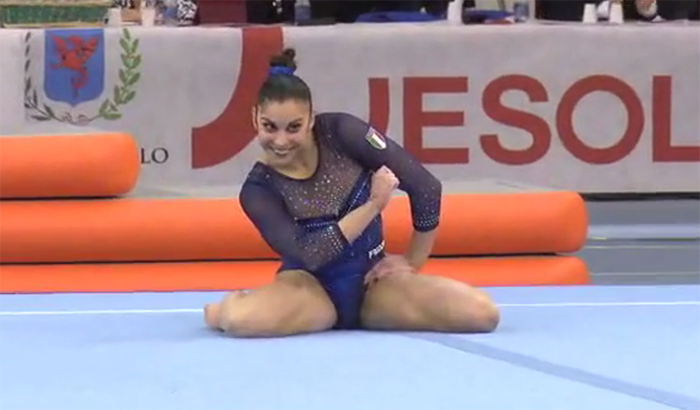 LISTEN HERE
MEET NEWS
Jesolo! (3:00)
Emma Malabuyo is the new queen of Italy

Ragan Smith returns for first competition since worlds qualification

Adeline Kenlin is officially a national treasure

BRAZIL!

Flavia is back and being so perfectly Flavia that line judges just ignore OOBs
Jade Barbosa is partying like it's 2007

Romania had two whole people (neither named Larisa) who hit bars at the same time

Elena Gerasimova has speed, backward shoulder rolls, and a wolf turn fake-out for the ages

Vladislava Urazov

a's asymmetrical braid took the juniors by storm
SO MANY OPPORTUNITIES FOR COMEDY
The Jesolo award ceremony is a psychotic meltdown with surreal fever-dream trophies
Tokyo! (53:48)
When the Olympic Channel freaked everyone out for a second
Jackson Payne injured himself on floor and then vaulted a handspring rather than withdraw from the meet. We discuss why
MAI IS NOT MESSING AROUND
Trinity Thomas is confident and consistent even though gymnastics isn't her whole life (WHAA?)
Simakova's unexpected vault and super, mega extra pre-floor wind-up doll presentation
Kenzo is back in Japan and Sam Mikulak has a new Achilles, so everything is OK again
RAGE-O-METER ABOUT NIPPLES
GYMTERNET NEWS (1:23:20)
Is MSU interim president John Engler even worse? (Yes.) 

Norah Flatley and Rachel Baumann have officially signed with NCAA teams!

NCAA nationals are this weekend! Who are the favorites, who's going to pull off the upset, and what are our wild dreams for the competition? We discuss. 

The best possible thing a dad has ever cheered from the stands in a meet.
SUPPORT THE SHOW
RELATED EPISODES
MORE WAYS TO LISTEN