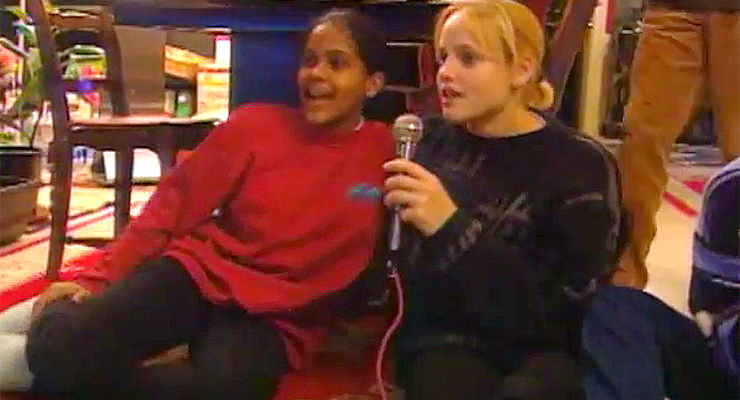 LISTEN HERE
ELVIRE AND CECILE!
Get excited. This week, Jessica had the pleasure of chatting with legendary daredevil beam queen and two-time Olympian Elvire Teza and her partner in French greatness, Cecile Canqueteau-Landi, 1996 Olympian and coach of 2016 Olympic gold medalist for team USA, 2015 bars world champ, Madison Kocian and—now—Simone Biles!
How training has changed from the 80's and 90's.
Being part of the French superstar era of firsts with Isabelle Severino, Ludvine Furnon and Eloidie Lussac.
Stereotypes of French training vs. American training: cigarettes, boyfriends, wine, baguettes, artistry, etc.
Adriana Pop and Laurent Landi bringing the makeup to the French-style performance game.
How Teza learned her crazy eponymous skills and dealing with her constant fear.
Why Cecile chooses to stay in the United States for the "more rewarding" gymnastics, especially NCAA and level 10s.
What they think of the current Code of Points  and how they'd do under todays code.
What it's like coaching Simone Biles and which crazy skills we can convince Simone to do.
The 1996 Olympic Games in the loud Georgia dome, AKA the butter-smell arena.
How to avoid burnout the French way: All the naughty things they did to get a break from their grueling schedules.
Why Cecile and Laurent took a long break after Rio.
Required Viewing
Cecile Canqueteau-Landi floor 1996 Olympics, and beam from 1998 featuring "tusk mount" jump half-turn to handstand from side
Elvire Teza fluff from 1998 American Cup, floor 1996,  beam 1997, bars 2000
Live Show at NCAAs
Seats limited. Get your tickets here 
T-SHIRT DESIGN CONTEST
OVERVIEW
The college gymnastics season is in full swing, and we're on the hunt for designs to put on t-shirts and swag that celebrate our love of this amazing sport. That's why we're bringing back our GymCastic design contest bigger and better than ever before (think Ebee's DTY).
Submit your best college-themed designs and you could be one of 5 winners whose art will be seen on the bodies of gymnerds everywhere.
THE PRIZE
Your design and name/website featured on our page
Your artwork made into merchandise to be sold in the GymCastic store
A free t-shirt of your choosing from our merch store.
THE MISSION
Create an college gymnastics-centric design that will make us moan like Kathy Johnson-Clarke.
Submit your original design by posting it on Twitter, Tumblr, or Instagram with hashtag #gymcasticdesigncontest and email it to us. Bonus points for collage-style images!
We use a site called TeePublic to print our merchandise. They do a great job of explaining their artwork requirements on their website. The most important thing is that if you win you will need to submit your art as a PNG file with a transparent background. Check out their Design FAQ at www.teepublic.com/faq
WARNING: This art must be your own original design. Directly using an image of a person (or the logo of a team or word NCAA) without their consent is frowned upon, and also a intellectual property violation. We can't use your design if you do. Silhouettes are a gray area, and are usually acceptable.
Deadline:  Saturday, March 17 (St. Patty's Day!) Questions? Email us at GymCastic@gmail.com.
SUPPORT THE SHOW
RELATED EPISODES
MORE WAYS TO LISTEN