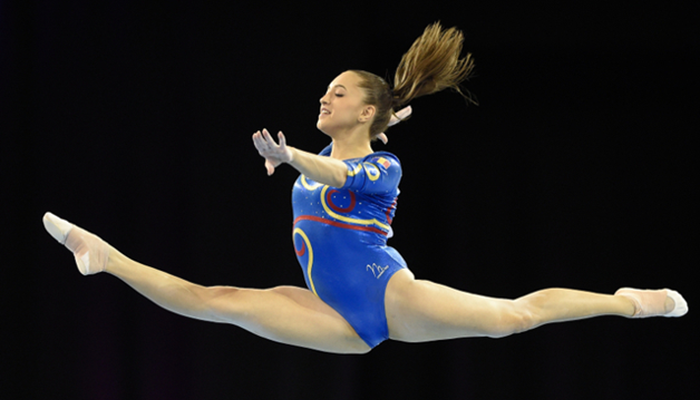 This week we've included time stamps for each segment of the show per your request. Let us know if you like it.  Uncle Tim, Emma, and Jessica chat about:
The Glasgow World Cup (00:00): massive moments of joy, shooting fire, Vanessa Ferrari looking tired, pulling shorts up to belly buttons, John Orozco and Oleg Verniaiev scamping around Glasgow, why Pauline Schaefer of Germany stole the show. Plus the juniors we fell in love with from Espoir.

The Mexican Open (34:14): The Four Amiga's: Boguinskaya, Daniela Silivas, Podkopayeva, and Chusovitina; the greatness that is Marta Pihan-Kulesza's exquisite form; the return of the fierce little Italian, Enus Mariani to international competition; and most importantly, our review of the latest super bling $10,000 leotard by GK.

NCAA previews (52:49): Our thoughts of Chayse Capps new floor routine, the genius that is Stacey Ervin's stick-a-thon floor routine and our gratittude for NCAA gymnastics after the long artistic drought that is the elite gymnastics code of points hell.

Our favorite items from the 2014

Ultimate Gym Nerd Gift Guide

(1:01:16) and what Uncle Tim's gymnastics nieces want for Christmas. It involves heavy excavation machinery.

Uncle Tim gives his review of Cirque du Soliel's steampunk-inspired show, Kurios–complete with droplets of man sweat and what made the wive's in the audience smack their husband's mouthes closed. (1:05:34)

Gymternet News (1:13:43): Gabrielle Douglas's agent dished all the dirt on why Dougy left Chow's, an explanation for Mustafina's poor performance in  Stuttgart, the coming out stories of a  rhythmic and artistc Olympian, how we feel about men's and women's Olympic trials being held separately, new skills in the code of points and why you should sign up for college Fantasy Gymnastics.

Mail Call (1:41:43): An outraged Russian listener, Irish Daniel asks what we think of Verona van de Leur announcing her comeback, and a very knowledgable listener takes gymnasts to task for copyright theft against choreographers.


Check out our Gift Guide here. Draft your fantasy gymnastics team by December 27! collegefantasygymnastics.com

Kayla Nowak of University of Oklahoma (AKA Mrs. Jake Dalton) doing her infamous Knock-Knock-Open-The-Door choreography at the 2011 NCAA Championships.