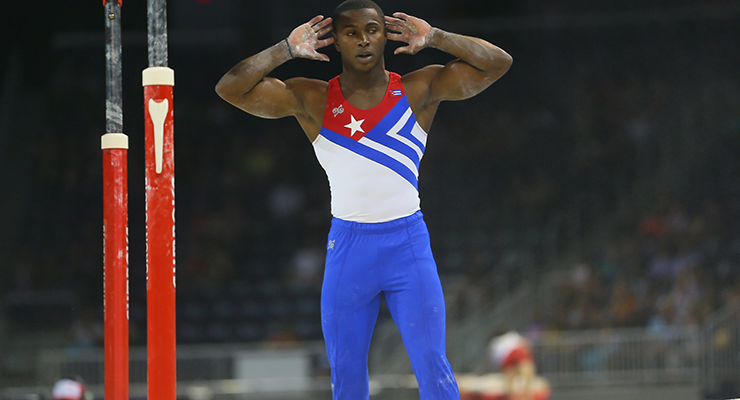 This week Mary-Anne "Mez Monckton from the Australian national team, Uncle Tim and Jessica chat about:
Pan Am Games Team Finals and All-Around Competitions:

Do we like Elfi Schlegel better on on ESPN or NBC?

We answer the most important question of the meet: Where's Marta?
Cuba, Cuba and more Cuba! Manrique Larduet (CUB) and Marcia Videaux Jimenez (CUB) thrilled us.
Yamilet Peña (DOM) and the Execution score vaulting problem; should Yamilet Peña have gotten credit for her Produnova/buttahara/chalk skid mark landing?
If Manrique was deducted for excessive celebration, was it justified?

Was Daniele Hypolito (BRA), aka "Hypolito The Great" and "No Gripz Hypolitz," unfairly deducted for a fall on her beam dismount?
Yes, darling of the Games, Flavia Saraiva (BRA)  touched the beam for a 1.0 deduction but Jessica doesn't care.
Winning with a fall: the Sam Mikulak (USA) vs Manrique all-around showdown.

Did the US team make the right decision by not letting Donnell Wittenberg (USA) repeat his Cassina after slamming his head against the ground and possibly suffering a concussion in all-around finals?
Jorge "The Hair" Vega (GUA) and his ode to Japanese gymnastics.
Ellie Black (CAN) informed the world that she is the shield maiden of the North!
We love that Maddie Desch (USA) went for all her difficulty, including a laid-out full on beam.
Who would we put up in a team final on beam? Amelia Hundley (USA) and Ana Lago (MEX).

University Games in Gwangju, South Korea:

Mary-Anne "Mez" Monckton (AUS) on her experience competing at the Uni Games after nine months out for ankle reconstruction.
Mez talks about her coping mechanisms for handling disappointment.
A MERS outbreak may have kept some teams at home, but the bars almost falling on judges, plastic sheets on the beds, and unpredictable schedule kept the competitors living the phrase, "be prepared for anything."
The Russian training system in action: how Maria Paseka hit her routines by laying around a lot.
With a score of 92 (higher than Kohei's (JPN) in the last two Worlds), is Oleg Vernaiev (UKR) now THE legitimate threat to Kohei?

Our weekly roundup of the latest news stories from around the gymternet include:
Steve Nunno is coaching, maybe, we hear….
Nia Dennis has left her longtime gym, Buckeye, for Legacy Elite Gymnastics in Chicago.
Keira Brown has officially transferred to Penn State.
Kyla has a new skill on bars; a Bhardwaj (Pak full) watch the video by Deanne Hong Productions.
We read your feedback about Aly Raisman's statement on eating disorders in The Body issue of ESPN magazine.