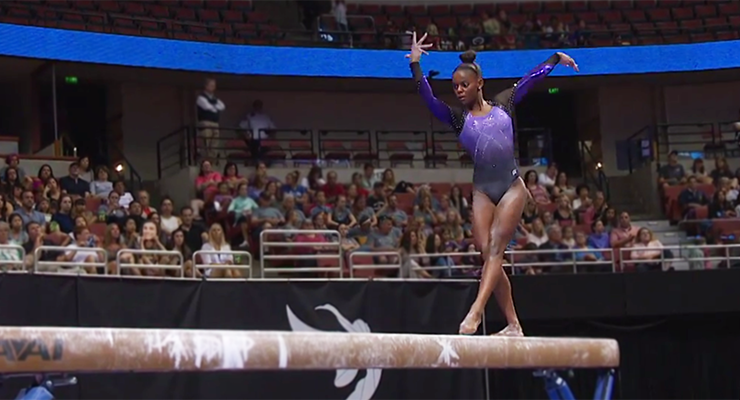 LISTEN HERE
2017 US Elite National Championships
Results, the stick and vault bonus disclaimer, plus E and D winners.  (1:48)
Award Ceremony (6:11)

The 2017 Jessica O'Beirne Pussilanimouses Will Never Be Heroes Award to Sienna Robinson
The Best New Accidental Skill Award to Jordan Chiles
The Living Legend Hero Team Captain Award to Aly Raisman
The Wrong Answer Award to Nastia Liukin and Tim Daggett
The Funniest How I Learned This Skill Award to Emily Gaskins
The What Could Possibly Go Wrong Award to John Macready. Again.

Women's junior competition 

(37:35)

Maile O'Keefe is a hit machine with room to upgrade
Emma Malabuyo is the real deal in the competition floor and off
"THE GAGE JUNIORS" is the new "hello."

Kara Eaker's 9.250 beam E is the highest non-vault E score of the whole meet
Leanne Wong held her L turn position for 88 minutes and it was breathtaking
JaFree Scott shows how to Arabian on beam

Adeline Kenlin did her Podkopayeva! Or is it a Faux-dkopayeva?
Jay Jay Marshall has all the skills and is planning an upgrade revolution
Anya Pilgrim's casual Patterson
Gabby Perea has the highest bars D score in the world
Olivia Hollingsworth and how to do a double Arabian
Fake inbar skills and fake dismounts: an oncoming epidemic?

Women's senior competition 

(1:04:27)

Ragan Smith only won by 3 and a half points. Simone would be so disappointed
The Smith Floor Controversy of '17

The problem with using "Dixie"
The problem with using wolf whistles
Did we like it anyway?

Jordan Chiles comes back from Classic with a triumphant second place
Riley McCusker hit a lovely 8 for 8 and got third even with downgrades
The epic greatness of Trinity Thomas on floor, with a 2.5 stepout, a butterfly, and swashbuckling!
Did Morgan Hurd really have a "bad" meet?
Marissa Oakley's phenomenal bars
Jade Carey

The best she has looked on floor so far this year
Did Amanar problems hurt her worlds chances?

Ashton Locklear – where does she fit right now?
Our WORLD CHAMPIONSHIPS dream teams

We found the nation of feelings, so that feelings can send a team to worlds

Men's senior competition (1:37:15)

The US men's worlds team is Moldauer, Mikulak, Whittenburg, Penev, Naddour and Kimble
Alternates are Modi, Bower, and Van Wicklen
And Spencer would like to know what's the meaning of all this!!!!
Jessica has the inside scoop from Brett McClure on his process
Our highlights
This month at Norbert's
For the month of August, our dear friends at Norbert's have a case of 36 1-lb boxes of Taiwanese Gymnastic Chalk for $275, shipping included.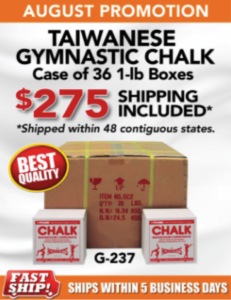 #BEERWITHBETTY
Thank you to everyone who participated in Beer with Betty!
When you try to handstand cheers-clink #BeerWithBetty with @precisionchoreo @TheButtonsUp @EOTL_BettyOkino #PGChamps pic.twitter.com/kgZru9AzJk

— GymCastic (@GymCastic) August 20, 2017
SUPPORT THE SHOW
Join Club Gym Nerd here with brand new membership tiers, commission your own episode, or commission your own segment.
Buy some of our awesome merchandise here.
RELATED EPISODES
MORE WAYS TO LISTEN