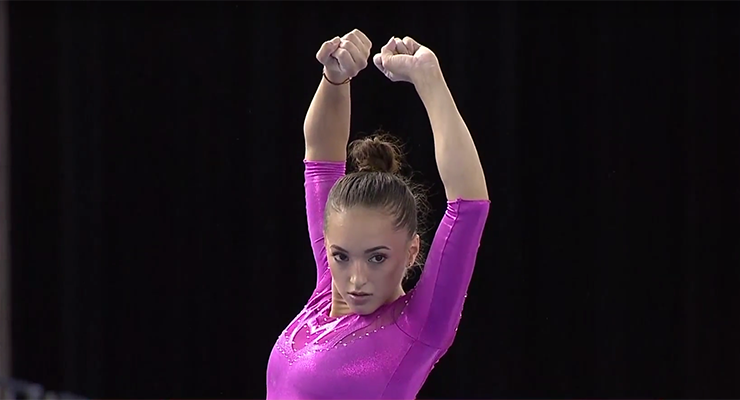 LISTEN HERE
All of our good thoughts and leotard sparkles are going out to the people of Texas, as we give 10 Khorkina glares to Hurricane Harvey. Here are the NY Times recommendations for how you can help.
MEET NEWS
Spencer and Jessica tell you everything you need to know about
The Russian Cup of Valentina Crazy Scores

How Melnikova won the all-around and hit beam (!), and it was all because of that sad Instagram post from Euros
Elena Eremina's 57.900 from qualification is the highest AA score in the world this year
Jessica explains why having a baby makes you better at floor, like Eleonora Afanasyeva
Maria Kharenkova is back with confidence! (And the highest scores of the meet on beam and floor) 
Is she challenging Anastasia Ilyankova's spot on the worlds team?

Uliana Perebinosova wears white socks on bars and is the next coming of Beth Tweddle

The Larisa Iordache University Games Starring Larisa Iordache

Iordache's massively risky beam that could be a 6.7 D score, and that she can fall on and still win the all-around.
Canada's team was NCAA strong and put the US to shame
Daria Elizarova is 26, has the most impressive tumbling in the meet, and didn't get the memo about not smiling

Southeast Asian Games

Rifda Irfanaluthfi of Indonesia is the Simone of Southeast Asia
Farah Ann doesn't need a last name anymore and is made of pizzazz and jazz hands
Indonesia, Malaysia, and the Philippines aren't sending anyone to worlds. We have feelings.
ATTENTION CLUB GYM NERD MEMBERS
We are giving away tickets to worlds. That's right: Tickets to the WORLD CHAMPIONSHIPS in Montreal this October, including the sold-out women's all-around final. Check your email for details.
Plus, Club Gym Nerd members will receive exclusive access to the loooooong version of September's upcoming Aimee Boorman and Maggie Haney interview. (We basically imprisoned them in a sweltering hotel room for 78 hours and made them answer all of our questions—like torture.)
Note: Everyone will get to listen to the episode when it is released, but only Club Gym Nerd members will get the extended producer's cut.
MINI COMMISSION
This week's mini-commission—GAME OF WOLF TURNS—is brought to you by Slothanova. Thanks for supporting the show!
She asked us to rate the wolf turns from P&Gs in the following categories: Comedic Genius, Doesn't Make Me Want to Burn Down the Building, Close to Perfectly Executed, and Transformative Life-Changing (Jordan Chiles Wolfkino) Art. It's what we were born to do.
For GIFs of the horror-larity we discuss, check out The Wolf Turns of Nationals.
GYMTERNET NEWS
FEEDBACK
Clarifications and additions to our coverage of nationals
Aly Raisman = hero
Jessica explains inbar skills
Genius ideas for women to get the same number of medals as men
Why it's very good that USAG is not buying the ranch
Details on the famous Sho Fujimoto kneecap incident of '76
Why the men don't do step-out passes
A heartwarming story about removing the board from the 1988 Olympic Trials
How to advocate for gymnastics and reconcile all of the problems with our love for the sport
SUPPORT THE SHOW
Join Club Gym Nerd here with brand new membership tiers, commission your own episode, or commission your own segment.
Buy some of our awesome merchandise here.
RELATED EPISODES
MORE WAYS TO LISTEN