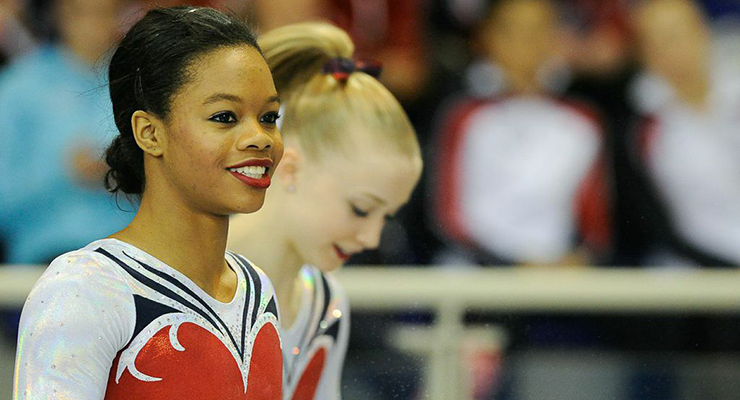 In the news, Mary-Anne "Mez" Monckton, Emma and Jessica chat about Jesolo:
The Italian crowds reaction to the triumphant return of the reigning Olympic all-around Champion, Gabby Douglas and the reigning Olympic floor champion, Aly Raisman.
Which gymnasts made a case for themselves  not to be ignored at Jesolo: Erika Fasana, Alysssa Bauman, and Laurie "Baby Sharkira" Hernandez.
How to tell how Marta feels; The Marta's head-squash vs. the scruff of the neck kitten-grab.
Was the mood between Gabby and Chow strained?
The XL Center Bat, The Antwerp Moth, The Nanning Bee and now, The Jesolo Dog.
Mez tells us what it's like to compete on the infamous Janssen-Fritzen floor which put half of the competitors on their butts
Jesolo Judges: Why were the judges 100 miles away from the apparatus and did it effect the scores? Plus, how the judges broke protocol; they just couldn't' help themselves.
Why Carlotta Ferlito quit Mtv Italy's Ginnaste – Vite Parallele reality show.
The British Championships:
Flame cannons; juniors beating seniors; special awards; and Amy Tinkler, the smiliest winner of all time.
Ellie Downie's successful but strange competition, walking off of the beam rather than dismounting.
Kelly Sim did a full-in dismount off of beam!
Why we love British Disability Champion, Tasha Coates who is allergic to exercise.
The Gymternet News:
Douglas Family Gold: Oxygen is working on a series about Gabby Douglas and her family. Can it be done tastefully or will it make her out to be a train wreck?

SB101: Indiana has legalized discrimination against LGBT citizens. How this would impact gymnastics and why we are cheering on Steve Penny, Josh Dixon and Danell Leyva in their fight against Indiana's Governor Pence.

The world rankings from The All Around here.
Beyond The Routine: WOGA watch here.
Find out what it's like to be allergic to exercise. An essay by British Disability Champion, Tasha Coates here.


USA Gymnastics has a photo gallery from training through finals of Jesolo here.