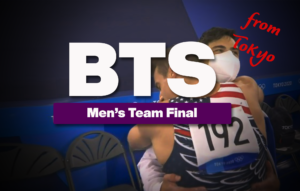 Our instant reactions after watching the mens' team final at the Tokyo Olympics:
How Nikita Nagornyy's smart improvisation won gold for Russia!
The Sam Mikulak Artur Dalaloyan hug that gave us all the international world peace feels.
A rotation by rotation recap!
Plus an explanation of the difference between US womens' scores here vs US scoring.
Throughout the entire gymnastics Olympic competition we will be recording a live show from Tokyo. Our regular weekly public podcast will resume after the Olympics. In the meantime, here is a sample of our coverage for everyone; and our club members, who have made this coverage possible, have access to the full episodes.
CLUB MEMBERS: Listen or Watch the full Behind The Scenes HERE
JOIN CLUB GYM NERD
RELATED
MORE WAYS TO LISTEN