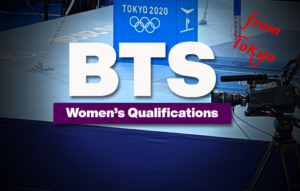 Our instant reactions after watching a full day of the women's gymnastics qualifying round at the Tokyo Olympics:
Simone didn't have her best competition, Rebeca Andrade placed second AA.
The US finished behind Russia by more than a point going into Team Finals.
Defending Olympic medalists failed to even make finals including  Sanne Wevers on beam.
Danusia Francis may have gotten the highest Execution score of the meet.
Chuso got the standing ovation farewell she deserved.
Tom Forster used the words of survivors to justify his poor decision making.
Throughout the entire gymnastics Olympic competition we will be recording a live show from Tokyo. Our regular weekly public podcast will resume after the Olympics. In the meantime, here is a sample of our coverage for everyone; and our club members, who have made this coverage possible, have access to the full episodes.
CLUB MEMBERS: Listen or Watch the full Behind The Scenes HERE
JOIN CLUB GYM NERD
RELATED
MORE WAYS TO LISTEN