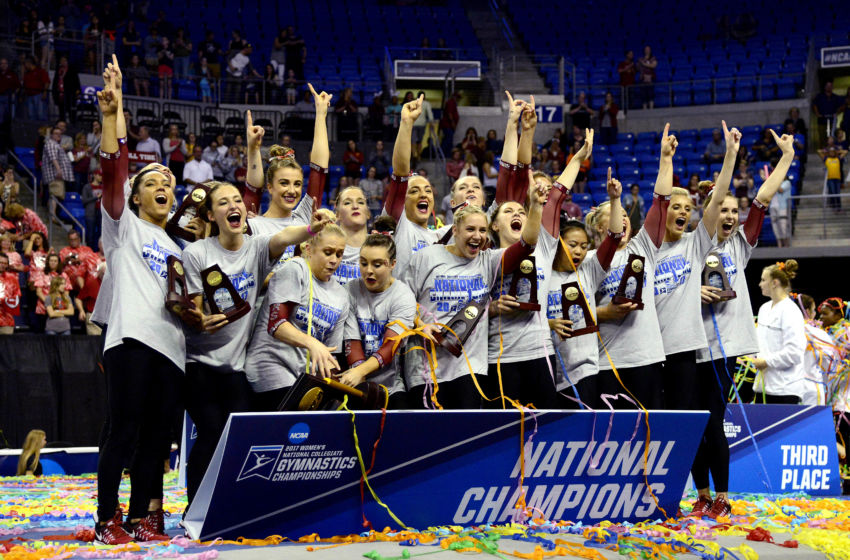 LISTEN HERE
IN THE NEWS
 Spencer,  and Jessica chat about the 2017 NCAA Championships:
Semifinal One:

Scoring started tight/correct but did it stay that way?

Utah gymnast

sent a lovey message to apologizes for alleged behavior of their fan

OU was shaky, UCLA shook up their lineups and improved

Ross made history by becoming the first female gymnast ever to be an Olympic, World and NCAA champion. 

Maggie Nichols vs. the beam

Fans of the Year Award goes to Iowa!

Crack or Correct : Denver's Karr stuck her 1.5 but didn't get the score she deserved. 

Semifinal Two:

Alex McMurtry (FL) wins all-around and stuck her DTY after not doing one for a month.

LSU on fire but used all their fuel too early.

Save of the Meet Award: 

Lauren Johnson (Georgia) bars gienger

Living Your Best Life Award: 

Ashley Lambert (NEB) floor and tweet to RuPaul

Stick of the Meet: 

Mollie Korth's stuck DLO 1/1

Event Champions (full results)

Jessica loves all the ties, Spencer hate them

Should every judge's score count to eliminate ties?

Katie Bailey (Alabama), only gymnast with an event title the last two consecutive years

Alex McMurtry only gymnast to get 10 from all 6 judges

Team Finals

Oklahoma 198.3875 (highest Super Six score ever)

LSU 197.7375 

Florida 197.7000 

UCLA 197.2625

Utah 196.5875 

Alabama 196.0000

Oklahoma: least controversial, most well-deserving team of all time. 

Maggie Nichols got a 10 on beam and from at least one judge on

every single routine

she did.

Breaking down what happened to LSU

How Dana Duckworth became an international hero with one simple interview.

Peng Peng got a 10 on beam. FINALLY!
Behind the Scenes Shenanigans

The bars weren't set up correctly for podium training

Athletes had a 15 hour day during semifinals day

Human Bowling: Florida warm-up 

F-yeah we beat Florida video breakdown

McKenzie Wofford dropping the trophy

St. Louis as a host city

Ft. Worth future host city

ESPN should buy the rights to every single gymnastics meet world-wide because their coverage was stellar!
RELATED LINKS
Watch European Championships:
http://www.clujeurogym2017.ro/en/video/
FloGymnastics
EuroVisionSport
We like the Tunnel Bear VPN to watch geo-restricted content
LEGISLATION ALERT

: Senator Diane Feinstein introduced her bill to make failing to reporting sexual abuse a crime and creating a 10 year time frame for victims to come forward (S534). Read the text of the bill here and her press release here.
Call your representative (find them here) to thank or tell them to pass this bill!
To support the victims use hashtag #GymJaneDoe
SUPPORT THE SHOW
Join Club Gym Nerd here.
Buy our awesome merchandise here.

Club Gym Nerd April Giveaway: Spanny Tampson's Gymnastics ABC Book

Emai

l gymcastic@gmail.com  

Subject line: Spanny's ABC Book

No need to tell us why you want it, just email us that you want it.

We'll randomly choose a winner on the last day of the month
RELATED EPISODES
MORE WAYS TO LISTEN