LISTEN HERE
IN THE NEWS
It's our annual World Championships preview show! Jessica, Uncle Tim and Evan chat about:
What these championships mean for the Olympic Games in Rio.
Our picks for top contenders and dark horses for every event final and medal (except rings and pommel horse because those events are only exciting in finals).
Who will the US put up in beam finals?!
How will Sosnitskay's Cheng help the Russian team.
Will Tatiana Nabieva and Biles burn the floor down with their collective sass at the post-meet banquet?
Will Chusovitina win another vault medal at age 39?
If this US men don't win a medal, will there be a shakeup at USAG?
Can Japan upset the Chinese men at home!?
The fan favorites you need to watch; the one's who will win the crowd, even if they don't win medals.
How to watch podium training and the qualifying rounds (select teams only) for free from anywhere in the world.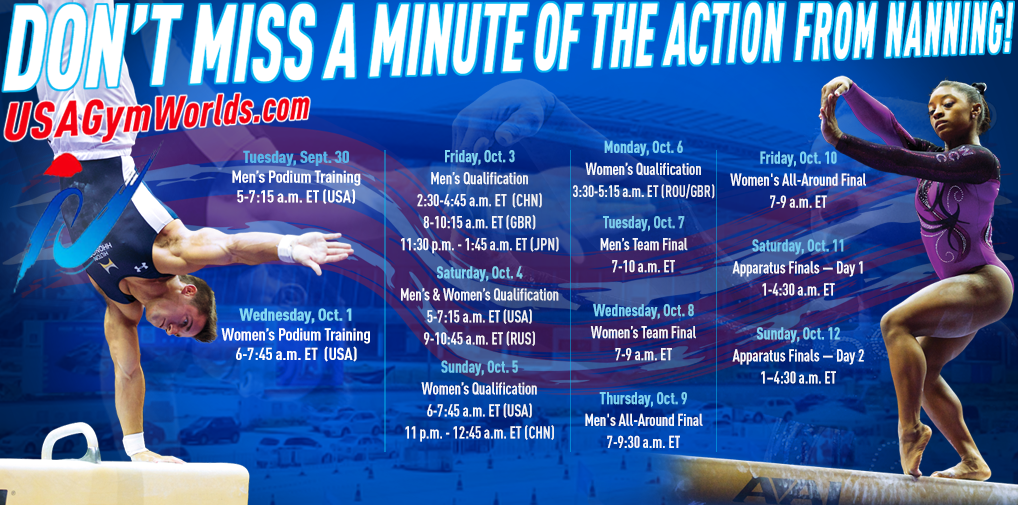 GYMTERNET NEWS
And here are the latest news stories we cover this week from around the gymternet:
Precision Choreography adds another legend to their roster
Katelyn Ohashi is back on beam with a full.
Sarah Finnegan does a double side flip.
Marcel Nguyen is out with a torn ACL but his YouTube diaries are keeping us happy.
Dutch gymnasts star in a pole dancing television contest.
The latest episode of The Hard Way to Success is on the Downie sisters.
RELATED LINKS
If you aren't in the United States, use a Virtual Private Network (VPN) like TunnelBear or Hola to watch podium training and the qualification rounds being broadcast by USA Gymnastics at USAGymWorlds.com
RELATED EPISODES
RELATED VIDEOS

Or watch this week's playlist on YouTube here.
MORE WAYS TO LISTEN