LISTEN HERE
IN THIS WEEK'S EPISODE
This week on Douglas Family Gold (S1 E5), Jessica, Spencer and Stefane recap the episode and discuss:
The family listened to the podcast! (3:00)
Gabby's bar upgrades revealed! (5:00)

Coach Christian's voice made the show, but not with his face at the same time.

What Gabby's Family has to do to overtake the Kar*$&#*ians as the top reality family in the world. (15:29)
Natalie's on-screen script boo boo. (28:42)
There was no cause for excitement about the Ranch footage because it was all recycled USAG footage. (35:50)
Jene Park, AKA Edna from The Incredibles is back: (30:55)

champagne and coffee for everyone
Gabby says, 

"what more chocolate do I need" and non-stop BBC jokes ensue.

Natalie has a boob tattoo and we can't stop analyzing it. (43:37)
Jessica's story about Natalie being a badass in Tokyo. (60:00)
Feedback (53:25)

Some feedback about Gabby's alleged single status from the African-American community.
Gabby wearing her hair natural this weekend for nationals in St. Louis.
RELATED LINKS
Watch episodes of Douglas Family Gold

here.
Watch Gabby compete in St. Louis at the national championships here
SUPPORT THE SHOW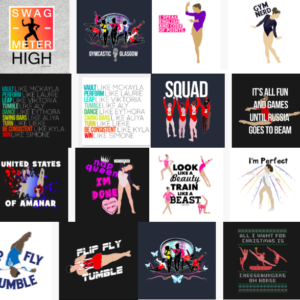 CONTEST
Name the Gabby Drag Queen below! Tweet @GymCastic #GabbyFamilyDrag with your name for our fabulous listener and legit adult gymnast in her Gabby drag. 
RELATED EPISODES
MORE WAYS TO LISTEN