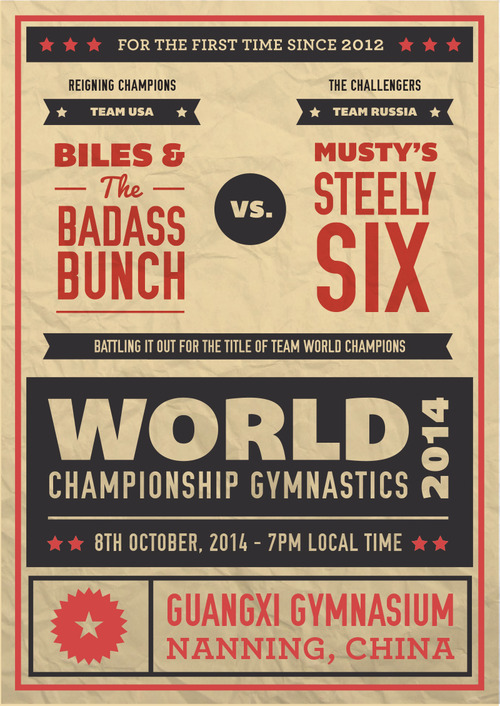 Our coverage of the 2014 Gymnastics World Championships in Nanning, China continues. Jessica, Uncle Tim and Lauren Hopkins cover the men's and women's team finals:
Gabby Jupp redeems herself and Jessica apologizes for confusing Hannah Whelan and Ruby Harold!
Sexy Data about the men's start values and execution.
The Japan vs. China team men's team final controversy, is it worth discussing and is it any different from any other sport?
Olivia Vivian and her beer cozy wrist band to honor her father.
The best routines of team finals.
The fluidity and O'Beirne Code approved brilliance of Japan's beam routine composition.
The reason the Chinese women lost the world championship – they didn't use Bai Yawen in finals!
The leadership and patience with which Aliya Mustafina and Larissa lordache lead their teams.
Khorkina's complaints about team Russia.
The adorableness of Bai Yawen hugging Mustafina on the podium.
The new trend in men's gymnastics, the comb-over bump it.
The unstoppable awesomeness of the US women's gymnastics team!
Come back Saturday to hear our recap of the women's and men's all around finals.

Lauren Hopkins is head honcho over at The Gymternet.  Uncle Tim puts data miners to shame on Uncle Tim Talks Men's Gym. Find inspiration for your adult gymnastics career at Masters Gymnastics.
Watch the Universal Sports broadcast for free on http://www.usagymworlds.com/live/
Nanning TV is showing a live stream and has very entertaining behind-the-scenes footage and interviews. No Chinese language knowledge necessary! Check it out here http://www.nntv.cn/live/nntv_gg/
Check out the video grid of routines from Worlds http://thegymter.net/2014/10/05/worlds-qualification-videos-running-master-list/