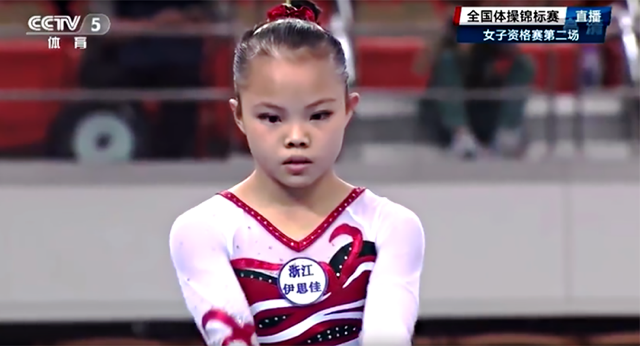 LISTEN HERE
IN THE NEWS
In the news, Spencer, and Jessica chat about:
Chinese National Championships 2017 (1:40)

The floor fell apart
Shang Chunsong got a 3 on bars with a scary fall/ i

nvents

clear-hip seat drop

to back tuck for 0.8 CV

Li Qi (pronounced Lee Chee *squeals*) 6.3 D score (WOAH!) beam with so many missed connections.
Chen Yile switch ring to catastrophe but is it the future of chinese bars

Du Siyu silver on

bars

Lu Yufei doing a GORGEOUS 

Fabrichnova 
Zou Jingyuan stole the show and got really mad when he wasn't perfect on the 6.6. D p-bars routine. 

Level 10, Junior Olympic National Championships (26:07)

Watch every routines here.

Kalyxta Gamiao (Hawaiian Island Twisters) toe-on

counter Kim

Aleah Finnegan (sister of Sarah) won age group AA/

BB

Leanne Wong – Basically just won the 2020 US

Bars

title

Lexy Ramler (Minnesota, Kid Sport) toe-on

full twisting shaposh

to immediate pak;  also highest

BB

score of competition (aerial + split ring)

Ky George (Cal) will be the next NCAA

floor

star, highest FX score of meet

Vault:

We explain the JO vault bonus.

Kai Rivers (LSU, won the Nastia) –

DTY

(automatic 80-point Geddert behavior deduction)

Haleigh Bryant –

handspring pike ½

is Rachel Slocum good

Lexi Graber got a 10 for

this 1.5
GYMTERNET NEWS
Our weekly roundup of the latest news stories from around the gymternet include (41:59):
Nikita Nagornyy casually chucking a

Tsuk double-double

.

A gymnastics

name pronunciation database

!

Should Parkour be an Olympic sport and under the FIG?

All the college coaching news
The US men are actually going to University Games!

"

The Damage I've Done"

Kristen Maloney

Everyone should sing their heart out during their gymnastics dance class like these kids.

When you miss prom because you qualified for Nationals, your coaches take you out for dinner in your

prom dresses

FEEDBACK:

Gender outrage: How is gymnastics gender unequal when rhythmic is only for women!
Military academy hazing
How to include Nassar news without triggering

RAGE-0-METER

Stop the glitter trampoline insanity! Wear goggles and a mask!
SUPPORT THE SHOW
RELATED EPISODES
MORE WAYS TO LISTEN