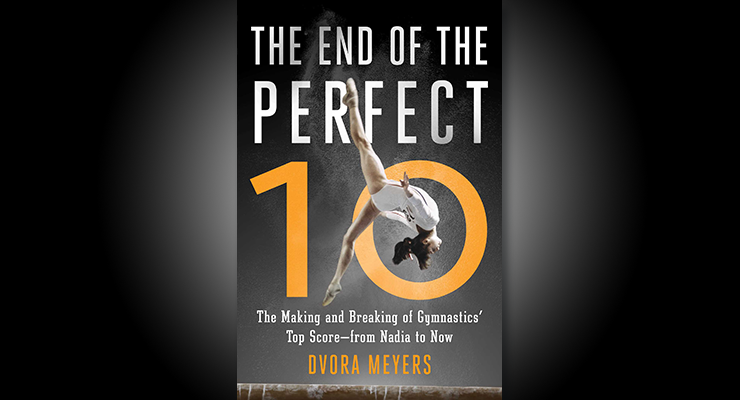 LISTEN HERE
THIS WEEK'S INTERVIEW
One of our original hosts, Dvora Meyers has just published The End of the Perfect 10: The Making and Breaking of Gymnastics' Top Score – from Nadia to Now. The book is the latest must-have in the gym nerd library. It examines the evolution of elite women's gymnastics over the last few decades and answers questions that gymnastics fans have been asking since the last perfect score was handed out over 20 years ago. She reveals why successful female gymnasts are older and more athletic than they have ever been before, how the United States became a gymnastics powerhouse, and what the future of gymnastics will hold. Lauren and Jessica chat with Dvora about (4:45): 
MythBusters in the book: Who were Nadia's actual first gymnastics coaches, when the open-ended scoring system came about, East Germany set precedent for the current American training system.
Gymternet vs television coverage – past and current Insulting coverage that creates gymnastics like a sideshow

How the Ranch has changed over the years

Texas Dreams taking athlete education to a whole new level. 

Is the marketability of the 10.0 real or is it just nostalgia. 

The gymternet versus dumbed-down Olympic television coverage. 

Are we better off now with the open-ended scoring system?
Olympic Trials Preview
(38:16) Which athletes qualified to Trials, list here. 

An ode to Alyssa Baumann's gorgeousness and why we are so sad that she is injured. 

Which gymnasts should just be stoked to be at Trials and soak up the experience versus women who are actually in the mix. 

Wildcards: Amelia Hundley, Maggie Nichols and Ragan Smith

Will we see a team where both bars of the top bar gymnasts, Ashton and Kocian are on the same team?

Will the business side of gymnastics come into who is chosen to do the all-around in Rio? 

Will Gabby do her Amanar and upgrade bars at Trials?

Can Swaggie Maggie make the team without her Amanar, and the rise of Laurie Hernandez?

Lauren's Team: Simone Biles, Aly Raisman, Laurie Hernandez, Gabby Douglas, Madison Kocian

Alternates: Ragan Smith, Ashton Locklear and MyKayla Skinner

Jessica's Team: Simone Biles, Gabby Douglas, Laurie Hernandez, Aly Raisman, Madison Kocian, Ashton Locklear maximizing bars potential score (that's right, six people because both need to go!). 

Alternates: Amelia Hundley, Maggie Nichols, MyKayla Skinner
GYMTERNET NEWS
(1:21:13) Chusovitina made her Produnova and the judge at the end couldn't keep her ish together! 

Romanian Nationals: Pre-meet Larissa got a

concussion

 but still won, although she may have hurt herself on her bar landing. Ponor had a fever and was in the hospital with some kind of food poisoning/flu! UGH!
RELATED LINKS
Fake, Jingoistic, And Stupid: Gymnastics Coverage Is The Worst Part Of NBC's Olympics by Dvora Meyers
The Tumbler Tumblr – How hard-core gymnastics fans are revolutionizing the way the sport is covered by Elspeth Reeve
Irked By Broadcast Coverage, Gymnastics Sites Aim To Raise The Bar – All Things Considered on NPR
SUPPORT THE SHOW
Join Club Gym Nerd here.
Buy one of our awesome shirts here.

Get Dvora's book in our Amazon store

here.
RELATED EPISODES
RELATED VIDOES 
MORE WAYS TO LISTEN