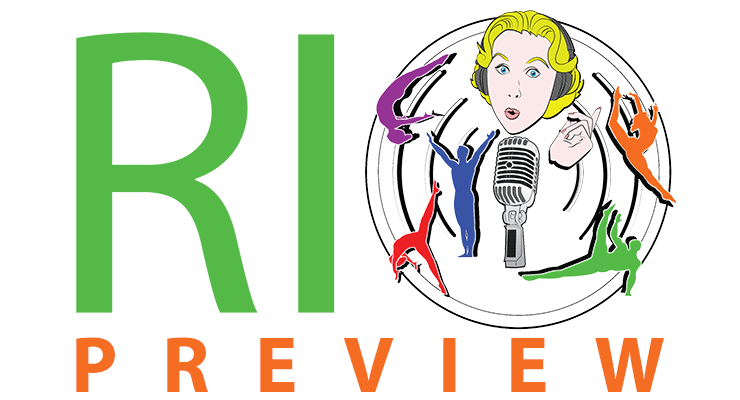 LISTEN HERE
IN THE NEWS
In the news, Uncle Tim, Spencer and Jessica chat about:
How to watch live on BBC, CBC or NBC (details here).
We will be doing a podcast every day of podium training and for every competition! (1:04)

The End of the Perfect 10 Book Contest winners announced (4:07)

Russia: Despite reports, IOC still hasn't cleared the Russians (6:39)

Individuals with cool skills and stories to watch in the Mixed Groups

WAG (10:30): Katarzyna Jurkowska-Kowalska double twisting gainer layout dismount, Vasiliki Millousi, Dipa Karmakar, Jessica Lopez, Zsófia Kovács, Catalina Ponor, Guilia Steingruber,  Houry Gebeshian, Hong Un Jong (who may complete a gorgeous triple twisting yurchenko), Toni-Ann Williams, Oksana Chusovitina, Larissa Miller
MAG (1:14:32):

Manrique Larduet, 

Rayderley Zapata, 

Eleftherios Petrounias, 

Ri Se Gwang, 

Oleg Stepko, 

Enrique Tomas "porn 'stash" Gonzalez Sepulveda; and six-foot-tall World floor medalist, 

Alexander Shatilov. And of course, Igor Radivilov's

triple front vault. 

MAG team medal predictions (1:20:00)

Our actual and fantasy world picks for team and individual medals (53:01).

Uncle Tim compares each men's all-around medal contender to great works of literature (1:34:00)

Three great websites to get rankings for your fantasy gymnastics pool 4for4.info has sexy data up the ying-yang. For rankings check out, The Gymter.net Best Scores in 2016 , The All-Around WAG Best Scores 2016 with D scores. 
GYMTERNET NEWS
Our weekly roundup of the latest news stories from around the gymternet includes(1:41:22):
Larissa Miller (AUS) had to vacate her room from the strong smell of gas. 

Nastia Liukin and Shawn Johnson's Grander mentoring project is not

their big #secretproject 

The FIG has an app now. 

Lauren Hopkins and Deanna Hong are working for NBC Olympics. Lauren is working on a show called The Daily Dismount

Simone Biles released her emojis

– Simoji.
Al Trautwig (1:43:00) gave the worst PR interview that confirmed everything we already know about him; he's willfully ignorant, tries not to do his homework, and sees gymnastics as an "esoteric" sport too complicated for the average human. It was like listening to an old white man who hates anything non-baseball. His misogyny was evident when he compared two athletes with legitimate medal chances to each other. His factually correct statements about Gabby Douglas, "didn't look like a gold medalist" and "has fallen off the beam the last two times she's gone" to Sam Mikulak who he says, in stark contrast to Gabby, "every once in a while makes the odd mistake." Funny way to compare two potential medalists when Sam has fallen at almost every single competition he's entered into for years. The rage continues…

Despite Kellogg's tweeting to the contrary, Simone will not be walking in the opening ceremonies. Duh. 

Aimee Boorman and Maggie Haney said they are getting Olympic tattoos and confirmed that Marta is on Twitter! 

We created #GymUnsafe

A spreadsheet to track coaches who make the news for suspected abuse–filling the gap between the time coaches are investigated and subsequently banned or exonerated. For example, USAG permanently ineligible member, Zac Lawson has opened a

new gym

.
OLYMPIC BRONZE CONTEST: A winner every other podcast in August!
What: The Bronze Movie Watch Party Kits (gym bag with goodies and the movie), The End of the Perfect 10 book, a U.S. Olympic Trials T-shirt or GRAND PRIZE*: A Bronze Movie gym bag filled with real props used in the film and the one of a kind, Aliya Mustafina cross-stitch handmade by Spanny Tampson. Open to Club Gym Nerd members only*
How: Tweet, Instagram, Voicemail or Tumblr tag us and use the hashtag #BronzeContest to tell us which retired gymnast you would want to coach you, The Bronze style, to Olympic glory and why?
Winners Announced: on every other podcast for the entire month of August! Starting with the women's podium training podcast. 
Grand Prize Deadline: August 21st at midnight. 
SUPPORT THE SHOW
RELATED EPISODES
MORE WAYS TO LISTEN